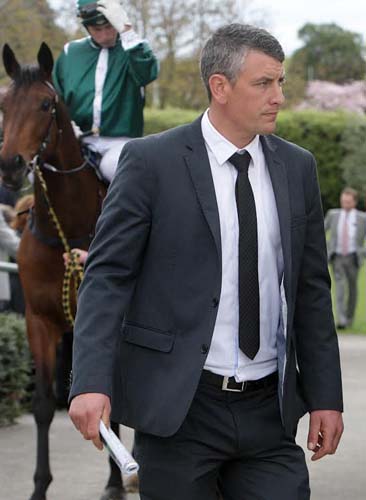 Shailer to join Autridge in training partnership
Kris Shailer has worked under Stephen Autridge for the best part of two decades and at the start of the new season he will get the opportunity to join his mentor in a training partnership at Valachi Downs.
Shailer, who has spent the last two years as Autridge's assistant, began his career as an apprentice jockey under Autridge's guidance and the respected horseman has played a vital role in Shailer's development in racing.
"Kris started with me as an apprentice when he was 15-years-old," Autridge said. "He's been working with me on and off ever since then. He has been a real asset to our team during that time.
"I've been thinking about bringing him into a training partnership for a little while, and now, with a growing team of horses around us it will be good to be able to share the load with a capable co-trainer."
Shailer won 24 races as a jockey and he later saddled 47 winners as a trainer – many in partnership with his brother Paul, who now manages the Queensland stable of leading Australian trainer Chris Waller.
Shailer's three seasons of training produced black-type successes with Caduceus in the Listed Champagne Stakes (1600m) and Lady Le Fay in the Listed Anzac Mile (1600m), and now he is eager to add to that tally.
"It's a fantastic opportunity and I'm really grateful to Kevin and Joanna (Hickman, Valachi Downs principals), Stephen and the entire Valachi team," Shailer said.
"I've worked with Steve for a long time now. I really enjoy working alongside him and I'm looking forward to continuing to do so in this new role."
Valachi Downs general manager Gareth Downey is excited about the new partnership and he is looking forward to seeing what they can achieve on the track next season.
"Kris has become such a key support to Stephen over the years and has indeed become an integral part of the Valachi team as a whole," Downey said.
"We are delighted to be formally recognising the excellent working partnership that exists between Stephen and Kris.
"We are very lucky to have the team of people we have at Valachi, and we look forward very much to the future of Valachi Racing under the guidance of Stephen and Kris."
New season weight structure
New Zealand Thoroughbred Racing have released the weight structure for the coming season, effective from August 1.
Open Entry Races will retain an eight kilogram spread to reflect the range of horses that are accommodated in these events.
However, the weight range will reduce one kilogram from 55kg-63kg to 54kg-62kg. If the spread of ratings is less than 16 points these races will be weighted from the bottom notwithstanding the standard regulations that apply.
The weights for standard open and rating races, as well as maiden, set-weights and penalties and age Group races, will revert to standard handicapping policy that was in place pre-COVID-19.
Reflecting what was on offer at the corresponding time last year, the minimum re-rating maximum of 6 points will now be removed.