Time called for Justa Charlie; Mystery Shot out to continue winning roll; Gelagotis looks towards the spring with gelding; Progressive Travest chasing Rosehill win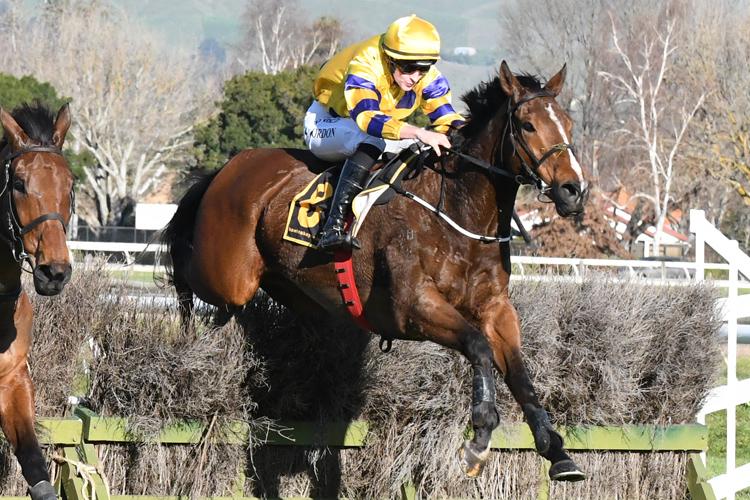 Time called for Justa Charlie
Talented jumper Justa Charlie has been retired due to soundness concerns following his second placing in the Ken & Roger Browne Memorial Steeplechase (3900m) at Te Rapa last Saturday.
That race was the Harvey Wilson-trained gelding's first jumps start since winning the 2018 Hawke's Bay Steeplechase (4800m). He was then sidelined with a tendon problem and returned to competition almost two years later with a close second on the flat at Wanganui late last month.
"He came through his first-up run with no issues, but the day after Te Rapa we realised all was not well with one of his legs," Wilson said. "It's not a major at this stage but it would be unfair on him to carry on.
"He's been a wonderful horse for us and the group of people who raced him. He had four wins and five seconds over hurdles and from five starts as a steeplechaser he won three and finished second in the other two.
"You couldn't ask for much more than that, so he's certainly earned an honourable retirement. He'll go to one of his owner's farms and in time it would be nice to think he could make a handy sport-horse for someone."
Mystery Shot out to continue winning roll
Unbeaten three-year-old Mystery Shot will be out to keep his picket fence formline intact when he lines up at Caulfield on Saturday.
Bred by Inglewood Stud, Mystery Shot trialled on four occasions in New Zealand and was identified by syndicator Brad Spicer and bloodstock agent Gary Carvell as a private purchase horse.
The son of Shooting To Win has since won each of his four starts and will have what is likely his final run of this campaign this weekend in the Super Vobis 3YO (1400m).
"He has been very impressive in the last part of the winter three-year-old year and hopefully he can take the next step up on Saturday," Spicer said.
"I just don't know how far he is going to Lindsay (Smith, trainer) is pretty conservative with a horse like him and I imagine that this will be his last start this campaign.
"He has done his job and will go to the paddock, we will probably aim towards the autumn with him."
Spicer is eyeing lucrative Autumn targets with Mystery Shot and has earmarked the A$5m All-Star Mile (1600m) as an ideal target.
"Hopefully he can develop into that All-Star Mile type of horse," he said. "I think it is a race that fits his profile, a horse on the way and it is plenty of money so we want to have a crack at it."
Gelagotis looks towards the spring with gelding
Moe trainer Peter Gelagotis is now eyeing some spring targets for Blandford Lad after he made it back-to-back wins at Sandown on Wednesday.
"He's starting to live up to the big ticket I put on him early doors," Gelagotis said.
"In his last prep he had two wins in a row and he ran second to Double You Tee. I then put him away because I thought he's a serious horse and has got the pedigree to boot, being a full-brother to Lucia Valentina.
"He had shown me some serious upside as a youngster, albeit when he was a colt. He came back as a gelding and he really settled down."
While he has had plenty of time for the promising four-year-old, Gelagotis admitted to being dejected by his poor performances earlier this preparation.
"For some unknown reason, for four or five runs in a row this prep, he has just gone off with the fairies," he said. "I don't know what I was doing wrong, I tried everything.
"I resorted to being really conservative with him and that seemed to work really well at Bendigo (last start) and he got the job done.
"Today he really showed his true colours and is starting to live up to the horse that I believe he is."
Blandford Lad has been up for some time and Gelgaotis is contemplating giving the gelding a quick freshen-up before targeting some spring spoils.
"He is deep into his prep, but those first four or five runs he was going nowhere," he said. "There was no energy expenditure at all and in his last two runs he has really tried.
"We will let the dust settle and we will lap up the win. We are back on track and even if we give him a little freshen-up he might be a spring contender."
Blandford Lad was bred by Graham and Helen-Gaye Bax, of Blandford Lodge, who remain in the ownership.
Progressive Travest chasing Rosehill win
Talented three-year-old Travest will step up to 7 f on Saturday when he contests the TAB Handicap at Rosehill.
Trainer Greg Hickman is pleased with the son of Tavistock, who made up good ground when finishing third at Randwick last start after getting too far back over 6 1⁄2 f on a testing track.
"It won't be an easy race on Saturday, there is plenty in there that have won a race and done a bit so we will still want to be on our merit," Hickman said.
"He did get a little bit far back (last start) but since that run he has done very well and I will be happy to present him on Saturday.
"I have kept him on the fresh side and haven't over worked him."
Travest is having his third start this preparation and Hickman believes that typical of the progeny of the late Cambridge Stud stallion Tavistock, he will only improve with time.
"There is not a lot to him, it will be good when he goes out in the paddock and grows into himself," he said.