Cambridge trainer Shaune Ritchie is taking a pragmatic approach to the four-week government lockdown period to prevent the spread of Covid-19, but he also recognises his set-up is more fortunate than most.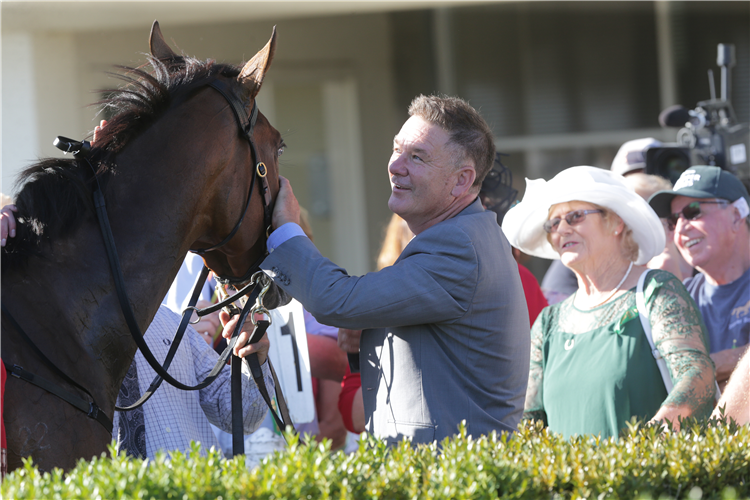 Horse racing, like many other industries, has already ceased prior to alert level 4 taking full-effect at 11:59pm on Wednesday.
Whether major training centres will be able to remain fully operational will be decided today, as the welfare of the many horses in training is a high priority.
"The number one priority is the health of my staff," Ritchie said.
"My horses didn't go to the track this morning. We are in a very fortunate position where we have paddocks at our place.
"There is no racing for four weeks anyway and we made a decision to turn out to various farms the horses that are not really right up to speed at this point. With the other horses we are in a great position where we have 30 paddocks and a walking machine and there will be myself and one other staff member.
"This thing is bigger than racing and I'm a little disappointed that some trainers are not thinking the same way.
"I know the government and the law says you can exercise your horse but to me if you have paddocks and your horses aren't stuck in a box then you are stretching it working your horses.
"I think the tracks should be shut down.
"There are some things that are more important than a horse following a white rail."
While Ritchie is fortunate to have a property with paddocks for horses to spell others are not as well equipped, with horses living in a stable requiring some form of exercise daily so as to not become a danger to themselves or anyone else.
"Everyone has a varying situation," Ritchie said. "Some trainers have staff houses with three to four staff members, so the smart thing to me would be to have them work with the horses and put them on the walker and in and out of boxes.
"Everyone is different. Some have a private facility, some breakers will continue in the Karapiro Hills, they have their own tracks and I can understand why if you have staff on the farm and you can continue business as usual."
While many industry leaders are calling for tracks to stay open, arguing the cessation of training is a welfare issue for horses and humans, Ritchie takes a broader view.
"I think it would be disappointing if tracks stayed open and people are interacting between stables at a training centre. That defeats the purpose of what the government are trying to do.
"But of course it is essential to go and feed your horses and have them looked after properly. The luxury of us having those paddocks is huge for us."
Ritchie's business will effectively go from horse training to spelling farm over the lockdown period and the trainer intends to keep his workforce to the best of his ability.
"Basically all our staff will stay on wages. If I can retain 20 to 30 horses on the farm I can feed them myself and charge a spelling rate and that will cover the wages going out for the next period of time so I can pay my staff and not lay them off."
Ritchie said that the major trainers all had walking machines that would help keep horses in some form of exercise and he had an alternate view to many when asked whether it was necessary to work them.
"In my opinion no," he said. "At the end of the day you have to put your staff first. That is my opinion and I will stand by it.
"The staff want to come back to work but we won't be pushing the boundaries of what the government have said.
"I think that exercising the horses, and I am not talking about being on the walking machine, I am talking about working it at the track, is pushing the boundaries of what the government is trying to achieve."
Ritchie said he would await directive from the code's governing body, New Zealand Thoroughbred Racing, which would happen today (Tuesday).
"Like everybody I am waiting for directives today from NZTR and with coronavirus it is a day-to-day thing, we have to adapt around it.
"In my opinion it is bigger than racing and common sense kicks in.
"We decided a couple of days ago to sanitise everything and we have things in place.
"If we have a horse that is crook then we have a vet that has to come out, if a horse loses a shoe the farrier will come out through the day when we are not there. We are trying to minimise this for the good of the whole country.
"The same goes for the feed guys. They will deliver food because it is an essential item and we will prioritise minimising contact."
The Ritchie stable were busy making logistical plans for a number of horses as well as ensuring everything on his property was in working order prior to Wednesday evening.
"Today is a busy day because we are taking a lot of horses out to a variety of farms and the horses that are staying here we have in a paddock each," he said.
"We are running around making sure everything works and the troughs are clean.
"At 3pm there will be me and one other staff member coming in for the four weeks. We will do our absolute best to do our part."
International travel restrictions for horses have come into effect, given professional grooms can't travel at present, putting an end to the campaign of Ritchie's Gr.1 New Zealand Oaks (2400) winner Jennifer Eccles.
The daughter of Rip Van Winkle had been one of the favourites for the Gr.1 Australian Oaks (2400m) on April but the travel ban will see her enjoying a well-deserved end of season break.
"Jennifer Eccles will go out to Paul Pertab's place today," Ritchie said. "There is a good example of a horse that is at the end of her campaign and six to eight weeks out is not going to affect her.
"The disappointing thing is that horses that are ready to go now are going to be on standstill but the moment it starts to clear if they are on the property we can get staff back in and start them on light exercise once the government gives us the all clear to do so."
Through all the twists and turns of coronavirus, Ritchie is taking a people first approach, which extends to his own family.
"The kids are going to be quarantined with me and we are not bigger than what is happening," he said.