Amidst the excitement, glamour and high-class action at Flemington on Saturday it was the small South Island settlement of Mosgiel that played a major role in the outcome of two of the feature events.
Mosgiel native and Te Akau Racing head trainer Jamie Richards experienced one of his biggest thrills when Melody Belle provided him with his first Australian Group One winner as a sole trainer when she took out the Empire Rose Stakes (1600m).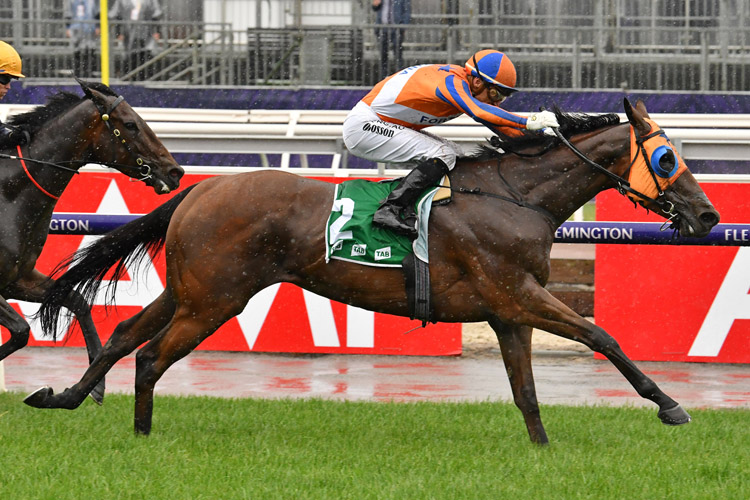 Richards grew up with close friend and fellow Mosgiel alumni Brad Taylor who experienced his own Group One moment in his role as racing manager for the Anthony Freedman stable, when their three-year-old Warning outclassed his rivals in the Gr.1 Victoria Derby (2500m).
Richards, who was delighted to put the Australian Group One victory on the board after a frustrating run of recent near misses with Te Akau Shark and Probabeel, was quick to pay tribute to the assistance of Taylor during his Melbourne trip.
"Brad has been a good mate for a long time now as we grew up together in Mosgiel and went to school and Otago University together as well," Richards said.
"Brad worked for Te Akau before he moved over to Melbourne so it has been great to catch up while we have been here.
"He has really helped us out with a whole heap of little things that I think a number of trainers might overlook.
"He has helped organise galloping mates for our horses, getting access to gallops on the grass and a number of other details that all play a part in any campaign.
"I was pretty excited when Melody Belle won and then for Warning to get that win for Brad and the Freedman team made it an extra special celebration last night."
While the thirty-year-old trainer admitted to indulging in a rare late-night out after the Melbourne triumph, it was back to business for the Matamata horseman on Sunday as he looks towards the next challenge for Melody Belle.
"She is just a wonderful mare and I think I was most proud of the fact that we could come over here, fly the New Zealand flag and prove to the doubters that we can compete in these big races with the right type of horse," he said.
"We will have our usual Monday sit-down to discuss what her next step will which could be a start on the last day of the Flemington carnival.
"That will depend on how she pulls up and also we're mindful that we want to keep something in reserve for an autumn campaign, but the early signs are good as she ate up well over night and trotted up perfectly this morning.
"If we do run on Saturday, it will either be in the Mackinnon Stakes (Gr.1, 1 1⁄4 m) or the Matriarch Stakes (Gr.2, 1 1⁄4 m) but we won't make a final decision until we see how each of those fields are going to pan out."
Te Akau Racing principal David Ellis paid tribute to the ten-time Group One winning mare that he secured for the Fortuna Melody Belle Syndicate for $57,500 out of the Haunui Farm draft during the premier session at Karaka in 2016.
"It was terrific to see and to win ten Group One races is a great achievement," Ellis said.
"It is great to go to the Flemington carnival and see her sit three-wide, give those good mares a good start and to win the way she did.
"It was pretty impressive stuff."
Ellis lauded the performance of jockey Opie Bosson along with Richards, a son of trainer Paul Richards, while providing some background on the young trainer's journey to his current role at Te Akau Racing.
"Jamie has done an amazing job training her and interestingly, Opie has never been beaten on her in eight rides, which is an incredible statistic," he said.
"He (Bosson) is a class act and is a huge asset to our stable.
"I met Jamie through my youngest daughter, Julia-Rose, who went to university with him in the South Island.
"He was working at New Zealand Bloodstock when my daughter introduced He came up and did a stint with Mark Walker when he was running Te Akau New Zealand.
"He then went and worked for Waikato Stud but came and rode trackwork for us before starting work at the stud.
"We had a discussion and I told him if he wanted to stay in the breeding side of the Industry, he couldn't work for anyone better than Waikato Stud, but if he wanted to be in racing side of the business he could come and work for us as our racing manager.
"That lead to a training partnership with Stephen Autridge and eighteen months ago his appointment as our head trainer.
"He's a pretty organised guy, a really smart, intelligent guy who is a good horseman who understands horses and who has a terrific future."
Ellis was delighted for the many members of the ownership syndicate who made their way to Flemington to support their pride and joy.
"It was brilliant to see so many people having so much thrill out of racing," he said.
"It's the way of the future as there are not many people who can afford to race a horse on their own so syndication is really the way forward."
With seven Group One victories to her name this calendar year alone, the star Kiwi mare has won more races at the elite level this year than any other horse in the world.