Racing will resume at Santa Anita on March 29 after the Thoroughbred Owners of California and track owners The Stronach Group reached an agreement on the use of Lasix.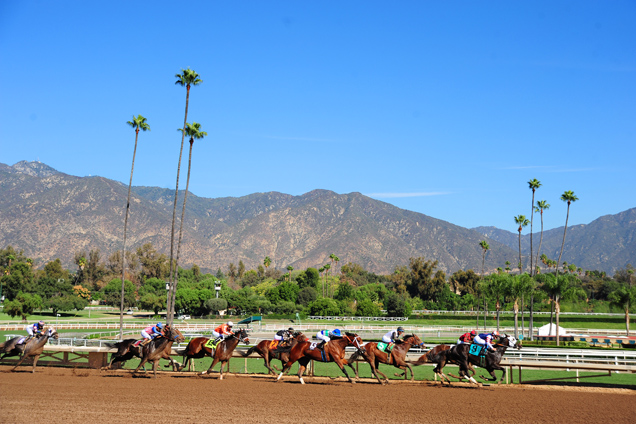 Racing will resume pending approval by the California Horse Racing Board on a new set of safety and welfare protocols.
The maximum amount of Lasix allowed to be used in horses competing at Santa Anita has been halved from 10cc to 5cc while horses born in 2018 will be the first crop to race completely without Lasix.
This first Lasix-free crop will begin racing as 2YOs in 2020.
"This is a complete revision of the current medication policy for thoroughbred racing. We have worked through the implementation of this groundbreaking model with our stakeholders and the California Horse Racing Board," said Stronach Group's Belinda Stronach.
"TSG is committed to the principles of safe horse racing for both equine and human athletes and to making California racing the best in the world.
"It is my hope the other tracks in California will follow suit.
"TSG will also begin consultation with our stakeholders in other states to put these standards into effect in those jurisdictions in the best interest of horse racing."
Saturday's press release detailed a number of new and previously announced changes:
• Complete transparency of all veterinary records
• Strict limitations on the use of any pain or anti-inflammatory medication and treatment, including legal therapeutic NSAIDS, joint injections, shockwave therapy and anabolic steroids
• Trainers must apply for permission to work a horse in a timed, high-speed training exercise at least 48 hours in advance.
• No therapeutic medications of treatments will be allowed without a qualified veterinary diagnosis from a state licensed veterinarian.
• Significant and strict Out-of-Competition Testing
• Increasing the time required for horses to be on-site prior to a race
• A substantial investment by The Stronach Group in diagnostic equipment to aid in the early detection of pre-existing conditions
"Santa Anita, Golden Gate and the TOC are also in alliance to change the use of the cushion crop (whip). This evolution of a centuries-old practice will only allow the use of the crop as a corrective safety measure. This new directive has already gone into effect during training hours," the statement read.
According to the statement "this agreement will effectively phase out all race-day medication at Santa Anita and Golden Gate under rules consistent with, or more restrictive than, the International Federation of Horseracing Authorities standards."
IFHA regulations are in effect at major racetracks throughout the world and are the benchmark for equine safety and welfare.
"Lasix has been legal in California for almost a generation of trainers," said Dionne Benson Executive Director and COO of the Racing Medication & Testing Consortium.
"This change will require many trainers to manage their horses without the aid of this medication in racing for the first time ever.
"In order to ensure this is done properly and thoughtfully, we need to allow time for this adjustment."
A meeting between representatives of TSG and various stakeholders collapsed on March 22 when Santa Anita management decided not to re-open the track for live racing as scheduled after they were unable to reach an agreement on how and when to ban Lasix.
A failure on the part of the TOC and TSG to reach an agreement would have raised serious questions concerning the racing calendar in California.