It's a busy life in the Moss-Lupton household.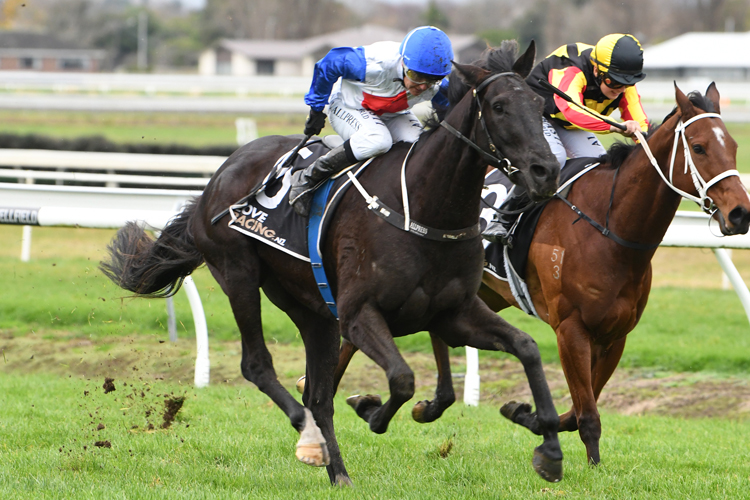 The alarm goes off at 3.45am every morning for Waverley trainer Joanne Moss and her partner, jumps jockey Isaac Lupton, in preparation for a busy day that includes milking 300 cows on their South Taranaki farm.
"We milk twice a day and it's only Isaac, his Dad and I, so it's a pretty busy life here," she said.
Moss has been training since the turn of the century, but admits it has become more of a hobby in recent years, with cows taking more of her time.
"The horses fit around the cows, it just keeps us busy," she said.
Their schedule has been even busier of late, with calving season well underway and Lupton travelling to ride across the country.
"We have just got a few to calve, we are nearly finished, so that will make life a little easier when it's over. They are some long days," Moss said.
"Then you go and do the horses and when Isaac is riding it gets even harder again."
While it has been a hectic time of late for Moss, she has been enjoying campaigning promising five-year-old Herengawe.
The son of Zed, who was bred and is owned by Lupton, has won five of his career starts and will be looking to add a first stakes victory to his tally in the Gr.3 Boehringer Ingelheim Metric Mile (1600m) at Awapuni on Saturday.
Herengawe placed in the Listed Opunake Cup (1400m) in July and Moss is hopeful heading into Saturday after two recent runner-up peformances, including a strong run last Saturday to finish behind Back In A Flash over 7 f at Ellerslie.
"I thought it was a good run, he went well," Moss said. "I only put him in on Saturday because he did so well when he came home.
"He's a handy horse and is as honest as anything. He is really laid back and is a nice horse, I really like him.
"We had a few offers for him earlier but we wanted to have a bit of fun with him."
TAB bookmakers have installed Herengawe as a $6.50 second favourite for the mile feature behind Gr.3 Winter Cup (1600m) winner Dez at $4.80, however, Moss said she would have liked to have seen more rain in the lead-up to Saturday.
"It's not a bad field on Saturday," she said. "He's pretty honest, but I would be a lot happier if it was raining a bit more. It was forecast, but it has just disappeared."
Herengawe will carry 117lbs and jump from barrier with local hoop Darryl Bradley taking the ride.
Moss said she is more hopeful than confident heading into Saturday, but regardless of the result Herengawe would head for a well-deserved break.
"He will probably go out for a spell after Saturday, he's been in a while," Moss said.
While Herengawe has only been tested up to a mile, Moss believes he could develop into a promising stayer, but is loath to accept a jumping future for the family pet.
"I think he will stay, but I won't let him (Lupton) jump him," she quipped.
"I told him he is not allowed to jump him, but I think he has put him over the fences."