Seoul Racecourse escaped the worst effects of Typhoon Lingling with a broken Grandstand window the only immediately apparent casualty of the storm that had looming over this year's Cup and Sprint all week.
All thirteen scheduled Saturday races at the track took place without major incident and with the stage set for Sunday's features, "Team USA" is ready.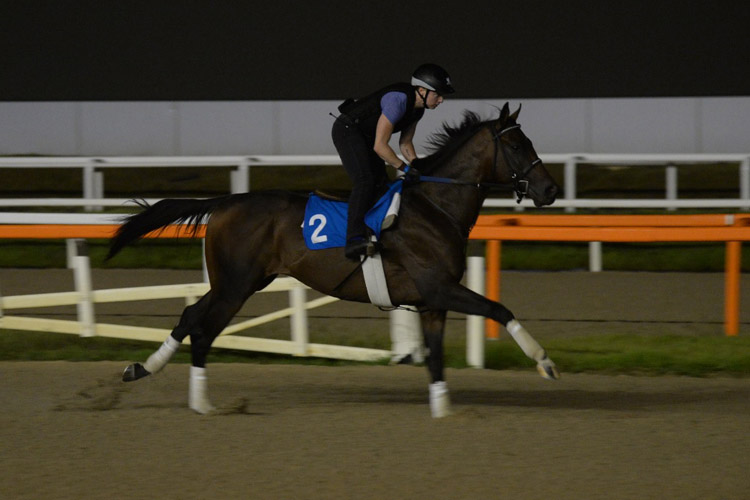 Lone Sailor will break from gate 3 in the 1 Billion Won Keeneland Korea Cup (1800M). The Breeders' Cup Classic 5th place-getter looks set to dispute favourite status with home hope Dolkong and Lingling's rain could tip the balance in the four-year-old Majestic Warrior Colt's favour.
"I was really hoping it rained because he likes the sloppy track" Lone Sailor's exercise rider Gilbert Concha told KRBC. "He broke his maiden on a sloppy track and runs best when it's wet".
It will certainly be wet and Lone Sailor will be coming from off the pace. "He's not a speed horse" said Concha. "He's a horse who will break and sit back and wait." As for how his charge, who will be partnered by Gerard Melancon on Sunday, has settled in Seoul, there have been no alarms. "He's fine, nothing wrong. He looks at everything and he seems to like it here".
The home straight of the Korea Cup could be action-packed. Lone Sailor and Dolkong are both expected to close and so is the second American hope, Harvey Wallbanger. The G2 Holy Bull Stakes winner has been catching the eye of plenty in morning work and assistant trainer Patrick Gilligan thinks those closers will have a chance.
"I've watched videos of the previous Korea Cups and while the winners have been on pace, horses who have placed have come from behind. We'll have to see, it's a bit of an experiment but he'll probably be closing together with the Tom Amoss horse (Lone Sailor) who is a similar style to ours."
Gilligan, whose son Jack will ride Harvey Wallbanger, believes the track layout may also help. "I think the straight is long enough. It will be interesting, but a lot will depend on the early pace; if the race is run quickly, that will help us."
In the 1 Billion Won Keeneland Korea Sprint (1200M), Korea's Blue Chipper is set to be favourite but all three American challengers have impressed local Korean racing media who put all in their overall top five.
Holy Legal will become the first filly or mare to run in the race and Benjamin Correas, representing the trainer, says she has settled well on the Seoul sand. "We think she likes She's been training on synthetics – polytrack – so it's quite a change and I think she liked I liked the way she went (in work), she looks eager, she looks good".
Correas is also confident that Holy Legal can be flexible in terms of tactics. "Her best win, she just went out and kept going – she won by twenty-lengths in Uruguay. I think she can run anywhere in the field, but it will depend on how the pace is". One thing that's not in doubt is her application. "She's the only filly in the race but I think she's going to do well. She'll run her heart out".
Fast Pass is another who has impressed local watchers and trainer Peter Walder was delighted on Saturday to watch a string of horses win at Seoul from off the pace. "We've run him maybe 7 or 8 times and he's done really well for He's a horse that comes from behind – from way back. He needs pace to run they need to go fast, and he comes flying at the end".
Walder is another visitor who was happy to see the rain. "The dirt is a little deep, very deep actually, but hopefully if it rains, the track tightens That will suit him better". The opposition doesn't intimidate him. "I've watched some replays and Blue Chipper looks like a nice horse and he has homefield advantage, but I'm hoping that maybe the horses we usually run against are a little bit better and maybe that will be good for us".
Rounding out a strong US Sprint challenge is Heartwood. The grey has won plenty of admirers in the mornings and trainer James Chapman noted that the hard work has been done. "The biggest hurdle of the whole situation, we've already gotten through – the shipping. He's eating well, training well and happy and that's 95% done".
Chapman believes his horse is capable of winning but doesn't expect him to blow his opposition away. "He'll never win by a lot of lengths, he runs to his competition and when he passes he idles up and waits for others to come – he'll even run sideways with his head cocked watching for horses. It's just kind of a characteristic that he has".
On the Korea Sprint, Chapman allowed that there had always been a different target in mind. "The ultimate goal would be we would like to run this horse in a Breeders' Cup. Last year we didn't put him in the places where he could necessarily win so this year, we started with the Breeders' Cup and structured back". Fate intervened though. "But then this came along" the trainer said of the Sprint. "Perhaps this is our Breeders' Cup".
The 2019 Keeneland Korea Sprint and Keeneland Korea Cup are races 7 and 8 on a 10-race card at Seoul Racecourse on Sunday afternoon.