Vale Barbara Blackie; Great Northern likely for Trisha Lea; Walk the course returns to Ellerslie;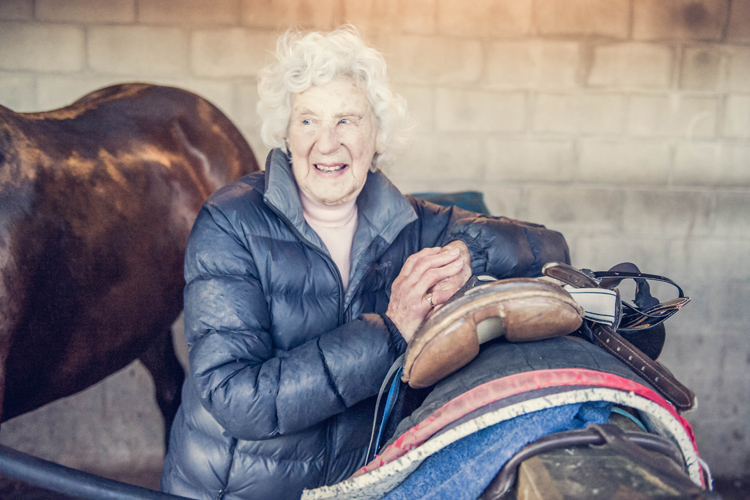 Vale Barbara Blackie
Centenarian Barbara Blackie, widely recognised as the oldest racehorse trainer in the world, passed away at home in Christchurch on Friday.
The Canterbury horsewoman celebrated her 100th birthday in July with family and friends and continued to enjoy training Diplomat, her sole horse in work.
Blackie enlisted jockey Terry Moseley to ride the majority of her horses and he said she was a well-respected horsewoman who was quite active right up until her passing.
"She was very fortunate in the fact that she was still fairly active until about the last month," Moseley said.
"She was still coming down to the track until about Christmas time. Her mental faculties were right up there with the best and she just was a really classy lady.
"She got a Queen Service Medal for her participation in founding the RDA (Riding for Disabled Association) down here and she was an equestrian as well.
"She lived a wonderful life to be 100 years old. The fulfilment she has had in her life is a testament to herself."
Blackie came to training later in life and quickly fell in love with the sport.
"I think she started training in her late fifties," Blackie's daughter Angie Bott said. "Before that she was heavily involved with horses, she was a top dressage judge and she was into eventing.
"She went to Jimmy Tomkinson and asked him who he would recommend to train a horse for a friend. Jimmy said to her 'why don't you do it yourself?'
"So she decided that she would. She loved it."
Blackie's funeral service will take place at Riccarton Park racecourse on Thursday.
Great Northern likely for Trisha Lea
Trisha Lea kept her unbeaten hurdles record in tact at Te Aroha on Sunday when taking out the John Wheeler Racing Stables Hurdle (3100m).
It was her second win from as many starts and trainer Kylie Little is now eyeing a Boutique Body Corporates Great Norther Hurdle (4190m) tilt with the daughter of Zed at Ellerslie on Saturday.
"She pulled up after the race really well and licked the bowl clean last (Sunday) night," Little said. "I'm toying with the idea of maybe starting in the Northern this weekend.
"She had today off and she will work tomorrow. If Charlie (Studd, jockey) feels she has bounced back we'll put the nomination in and make the final call on Wednesday morning.
"She has been a wonderful mare for She is so tough and we have to admire how much she has done for us."
Little moved to Cambridge from her Wairarapa base earlier this year and she said she is enjoying her time in the north.
"We are based at Gary Alton's, so we have got the use of the treadmill and we are right next to the swimming pool and across the road from the track," she said.
"We are pretty happy with what is happening at the moment."
Meanwhile, stablemate Lucyinrio could be set to target the Gr.3 Red Badge Spring Sprint (1400m) at Hastings next month if her preparation goes to plan.
"Lucyinrio trials on Tuesday, so we look forward going into the summer with her," Little said. "She has placed in Group Two and Group Three company.
"We will look at kicking her off at Ruakaka in a couple of weeks if she trials up well. She placed in the Red Badge Sprint a couple of years ago, so that could be a possibility for her."
Walk the course returns to Ellerslie
The Auckland Racing Club is delighted to announce the return of their steeplechase course walk – this year hosted by jumps racing legends, Michelle Strawbridge and Wayne Hillis.
Taking place prior to the 135th running of this Saturday's Network Visuals Great Northern Steeplechase, the Club will open both its famed steeplechase course, and new function space – Tote on Ascot – for the public to come and take a look at.
Starting with a complimentary morning tea at 9.00am in Tote on Ascot (located adjacent to the tie-up stalls), the walk itself will commence at 9.30am and may take up to one hour.
The event is free however, to help with catering requirements & to ensure they receive up-to-date event information, interested parties are asked to RSVP at http://bit.ly/WalkTheCourse .