Macau's dominant three year old from last season Bring Me Speed returned to form with a sensational win in the Golden Group Fat Choy Cup over 1200 metres at Taipa on Saturday.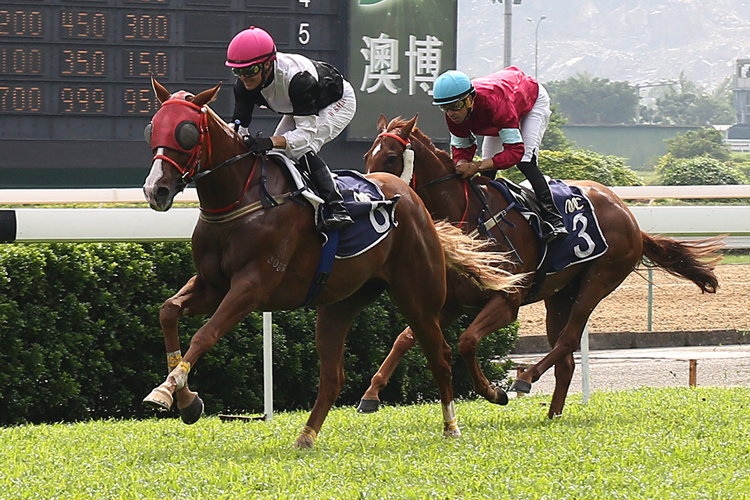 In a race run at a suicidal pace, Bring Me Speed ridden by Manoel Nunes was a clear last out of the gates and was still second last coming the corner, spotting the tearaway leaders Thehorseiswithme and China Paradise at least 12 lengths. Once in the home stretch and balanced the son of Sebring (Aus) literally sprouted wings and powered home right down the outside to grab Winter Snow (Wayne Smith) and win by a neck, with Golden Thumb (Peter one and a quarter lengths back in third.
The win by Bring Me Speed bought to an end the winning sequence of Thehorseiswithme (Luis Corrales), who after putting together a sequence of five straight victories, compounded late to run fifth beaten three and a quarter lengths. However the only three year old in the field certainly lost no admirers doing a great job after being involved in a maddening race for the lead when taken on by China Paradise (Eric Cheung).
Winning jockey Manoel Nunes heaped praise on Bring Me Speed a flashy chestnut with a taffy mane and tail, describing the win as fantastic."
"I've been training the horse in the morning and he has been flying, but of course everyone was frightened of Thehorseiswithme. After studying the race and looking at the speed horses in the race, I knew it was going to work perfectly for I knew that they would go very fast so I just took my time at the back, and from the six hundred I started to come into the race and I knew I had plenty of horse under He really flew in the straight under the lightweight. I think he will be a great 7 1⁄2 f horse as really the 1200 is just a bit sharp for him even though he won today." Nunes said.
Bring Me Speed is raced by longtime MJC supporter Tam Vai Lam and prepared by C F (Victor Chan). As last season's superior three year old Bring Me Speed won seven races including the Group 1 Rising Star Cup over 6 3⁄4 f on the sand, and the Listed Lisboa Juvenile over 6 f on the turf.
This season initially started off as tough going for the now four year old with two disappointing efforts on the sand in November and December; that all swung around with an eye catching run in January when running sixth only beaten three and a quarter lengths behind the dead heaters Mister Kaopu and Obrigado Mais over 1200 metres. On Saturday Bring Me Speed met Mister Kaopu a whopping 18 pounds better off with Mister Kaopu still running a great race in fourth beaten only two and a quarter lengths under Ruan Maia. The tables will be turned vastly in Mister Kaopu's favor should they meet again in the Group 1 Chairman's Challenge Cup (1200) at equal weights of 126 pounds on Macau – Hong Trophy Day on March 3rd. The perfect race on that day for Bring Me Speed it would seem would be the MJC 30th Anniversary Cup over 7 1⁄2 f (turf), or even the Group 3 Sand Mile.
Big Alloy continued his climb in the ratings to ensure himself of a Derby start with another gutsy win in the Macau Golden Group Fat Choy Bowl over 1800 metres.
Ridden by Luis Corrales, Big Alloy came from a midfield position in the run to storm home in the centre of the track to win by three quarters of a length from Chromium Alloy (Horace Lam), giving the connections the quinella in the prestigious event, with the early leader Casino Mok (Frankie Choi) in third.
Prepared by Alan Tam, Big Alloy has now won five races and placed nine times from his 17 starts to date and is a tough customer that will not be out of place in July's $2.6 million Derby.
The biggest surprise of the day came with the gutsy win of Georgian Ease under Japanese rider Shogo Nakano in the Macau Golden Group Fat Choy Plate over 1500 metres.
Prepared by Peter Leyshan, Georgian Ease enjoyed a sweet run under Nakano box seated on the rails, before darting through on the inside to hit the front at the two hundred, and then showed plenty of grit to hold on and beat the fast finishing One Belt One Road (Luis Corrales) by a neck, with race favorite Fortune Treasure (Manoel Nunes) close up in third.
Luis Corrales on the runner up quickly fired in a protest alleging interference in the home straight against the winner but the MJC Stewards Panel headed by Australian Zane Turner, quickly dismissed the objection when it was evident that Georgian Ease was clear of One Belt One Road when he shifted ground late.
No one was more pleasantly surprised with the win then Peter Leyshan who thought the New Zealand bred son of Super Easy was just a touch of out his depth in the race.
"It was a great run last start at 100/1 in a weaker 1800 metre race and we were thrilled. But today in the stronger company and coming back to 7 1⁄2 f I was not as confident; mind you he had done well since his last run. So it's been a very pleasant surprise." Leyshan said.
Another longshot winner on the day was the Danny Wong trained Schilleraine who produced a great last to first performance to win the Happiness handicap over 1500 metres.
Ridden by Filipino jockey Breinell Yamzon, Schilleraine was stone motherless last spotting them close to 15 lengths at one stage. The tearaway leader Moral Integrity really had the field stretched leading by eight lengths at one stage but wilted in the straight, and just when punters were hailng the even money favorite Trump (Wayne Smith) the winner, Schilleraine and Yamzon came barnstorming down the outside to spoil the party.