Chris Scholtz previews the Magic Millions race day at the Gold Coast on January 12 with selections for all races.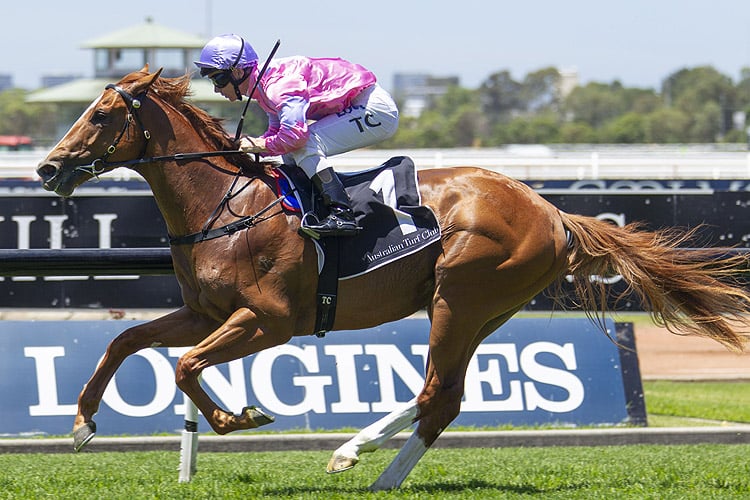 GOLD COAST January 12
RACE 1: Altair (EW)
RACE 2: Cool Sequence (EW)
RACE 3: (15) Tokoriki Lad (Value)
RACE 4: Black On Gold
RACE 5: Houtzen
RACE 6: Manicure
RACE 7: Boomsara
RACE 8: Czarson (EW)
RACE 9: Sambro (EW)
RACE 1: 2-11-12-14
RACE 2: 7-3-11-13
RACE 3: 15-10-14-5
RACE 4: 2-4-1-5
RACE 5: 3-2-1-13
RACE 6: 5-1-6-11
RACE 7: 1-3-8-13
RACE 8: 7-8-4-1
RACE 9: 5-12-13-11
TRIAL WATCH REPORT
Noted Trial Horses engaged on January 12/14
GOLD COAST SATURDAY
: Altair (R1); Kaepernick (R5); Invincible Star (R5); Czarson (R8); Arbeitsam (R9)
KAEPERNICK (Canterbury December 20): First outing since his second at Flemington on November 8 and it was typical of his racing style that he settled at the rear before peeling to the outside on straightening where he quickly built momentum to sweep past his rivals with his trademark turn of foot in the quickest of the 4 1⁄2 f heats (54.61; 34.47). They pick and choose his races but there is certain to be a suitable summer sprint for him in coming weeks.
CZARSON (Warwick Farm December 27): Locked horns with his highly vaunted unbeaten stablemate
UNITE AND CONQUER
and clearly took the honours with an impressive last 2 f, driving to the line strongly to win in the fastest of all the 4 f heats (46.20; 32.90). His stablemate led easily sitting four off the fence but it was the last 0 from this youngster that really impressed as he easily made up the leeway and went through the line in fine style. Both youngsters head to the Magic Millions Classic with this trial indicating there is very little between the pair.
RANDWICK SATURDAY
: Hand From Above (R3); Marsupial (R5); Eagle Bay (R8)
RECENT TRIAL WATCH WINNERS: Safado; Roman Wolf; Vegadaze; Bring The Magic; Vinci Lady; Elenara; Alizee; Sexy Eyes; Prophet's Thumb; Fierce Impact; Sasso Corbaro; Dubious; Helga; Unify; Taken Everything; Bad Boy For Love; Hightail; Ljungberg; Ninamos; Lancaster Bomber.
>BLACKBOOK REPORT
ELIGIBLE BLACKBOOK RUNNERS – January 12<
RANDWICK: Highway Sixtysix (R1); Strome (R4); Frolic (R5); Solo Mission (R6); Asterius (R9)
GOLD COAST: Umberto (R3); Black On Gold (R4); Zizzis (R7); Rome (R8); Husson Eagle (R9); Smartedge (R9)
FLEMINGTON: Naantali (R6); Invincible Al (R7); Tbilisi (R9)
NOWRA MONDAY: Emshalky (R6)
RECENT BLACKBOOK WINNERS: Teodora; Gresham; Military Zone; Nahuel; So Si Bon; Easy Eddie; Miss Norway; Our Crown Mistress; My Nordic Hero; Kentucky Breeze; Firsthand; Chapter And Verse; Bleu Roche; Shillelagh; Newsfan; Royal Celebration