Chris Scholtz previews the Rosehill meeting on December 8 with selections for all races.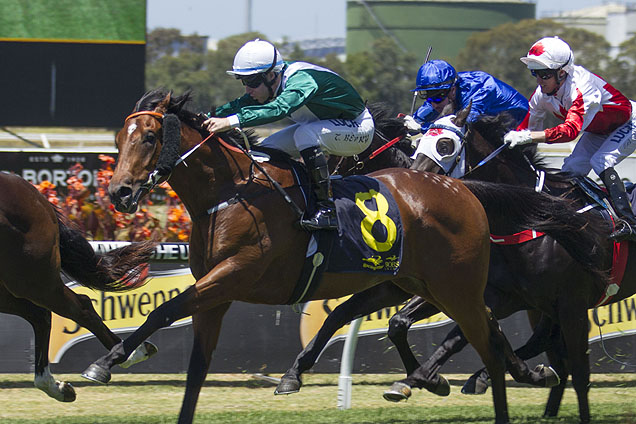 ROSEHILL December 8
RACE 4: Etymology
RACE 5: Sir Bacchus (EW)
RACE 6: Deft
RACE 7: Jorda (Value)
RACE 8: Reflectivity
RACE 1: 3-5-1-2
RACE 2: 5-6-2-3
RACE 3: 2-3-6-4
RACE 4: 3-4-2-1
RACE 5: 1-7-4-2
RACE 6: 7-6-4-2
RACE 7: 8-9-6-2
RACE 8: 5-4-11-9
RACE 9: 6-11-12-7
ROSEHILL PARLAY
RACE 4 (3)
ETYMOLOGY: Continues to race consistently under these conditions and arguably should have won his last two starts, firstly over 1 1⁄4 m at Flemington and then at this course two weeks ago when he was checked and blocked for a clear run behind the talented Sky Boy over 1 1⁄8 m. The extra 1 f is definitely in his favour and while he has won only twice in 27 starts his overall form for this company is excellent.
RACE 6 (7)
DEFT: Progressive mare has been in strong form since resuming, winning first-up over 5 1⁄2 f at Canterbury before her last start second over 0 at this course when she had excuses behind the promising Seasons. She has missed a place only once in her eight starts up to 1 1⁄8 m and should find 7 f at this stage of her prep ideal, the bonus being that she should enjoy a soft run with cover from the rails draw.
RACE 8 (5)
REFLECTIVITY: Primed to peak at his third run back after two strong efforts at this track, resuming with a closing fifth over 7 f before he was run down late by Organza over this trip 14 on November 24 when he was anchored by 129lbs. Stays in the same class, he's certain to be fitter and benefits from a 7lbs claim this time to reduce his weight to 124lbs. Maps to dictate the terms from good draw in a race lacking genuine pace.
TRIAL WATCH REPORT
Noted Trial Horses for December 8/9
ROSEHILL SATURDAY
: Creator (R1); Beidi (R2); Albumin (R7); Coruscate (R7); Ever So Natural (R7); Junglized (R7)
BEIDI (Randwick November 27): Allowed to find his legs early in the fastest 5 1⁄4 f heat won by the smart mare Pumpkin Pie in 1.03.55 (34.90), getting a quiet ride from Hugh Bowman at the rear before working into it strongly between horses from the 2 f and 1 f. Had plenty to offer when he had to check at the 0, losing his momentum but recovering well to hit the line untested. Set to improve sharply on his first-up effort.
NEWCASTLE SATURDAY
: Invincible Lad (R1); Musical Genius (R1); Think It Over (R3); Quenya (R5); Solera(R5); Wonderbabe (R5) ; Killer Instinct (R6).
MUSICAL GENIUS (Randwick November 27): Lightly raced 4YO mare showed god promise with two wins last season and looks to have come up in the right form to make further progress. She travelled strongly on the bit in the fastest of the 3 1⁄2 f heats (43.46) and had a lot to offer when she challenged the pacy winner and race rival INVINCIBLE LAD over the last 0. Beaten narrowly but gave the impression she could have won the trial if called on by Robbie Dolan.
DOOMBEN SATURDAY
: Bombarding (R9)
HAWKESBURY SUNDAY:
Trade's Star (R4)
NOWRA SUNDAY
: Say Goodbye (R1); The Runner (R1); Luck's Fortune (R5).
RECENT TRIAL WATCH WINNERS: Skagerrak; Sizzled; Alternative Facts; Kapajack; Athiri; On The Top; Samadoubt; Enjoy Elsie; Regent; Re Edit; Snippetspeed; Demerara; Tassort; Czarson; Hostwin Saturn; Chess Star; Our Century; Seasons; Choice Larga; Skyray; Rosina Kojonup; Bon Amis; The Promise; Nordicus; Battle Anthem
BLACKBOOK REPORT
ELIGIBLE BLACKBOOK RUNNERS - December 8
ROSEHILL SATURDAY
: Araaja (R4); Etymology (R4); Sweet Victory (R6); Jorda (R7); Slow Burn (R7); Asterius (R8)
PAKENHAM SATURDAY
: Wall Of Fire (R7); So Si Bon (R8); Proud Wolf (R9);
DOOMBEN SATURDAY
: Our Crown Mistress (R8)
MORPHETTVILLE SATURDAY
: Platinum Angel (R7)
ASCOT SATURDAY
: Holy Snow (R8)
RECENT BLACKBOOK WINNERS: My Nordic Hero; Kentucky Breeze; Firsthand; Chapter And Verse; Bleu Roche; Shillelagh; Newsfan; Royal Celebration; Verry Elleegant; Ranier; Street Tough; Savacool; Ringerdingding; Sesar; Tamasa; Diplomatico; Homesman; Patrick Erin; Oohood