Trial Watch horses and Blackbook Update for racing at Randwick and Caulfield on October 13.
TRIAL WATCH – October 13
NOTED TRIAL HORSES
RANDWICK
: Disruptor (R1); Speedycom (R1); Anaheed (R1); Stampede (R4); After All That (R5); Victorem (R5); Egyptian Symbol (R7); Revenire (R10); Beacon (R10); Blue Tycoon (R10)
KEMBLA GRANGE
: Ariege (R6)
TRIAL STARS
DISRUPTOR (Rosehill October 2) – Gary Portelli-trained Dissident youngster was second to the subsequent Breeders Plate winner Dubious at the Randwick trials on September 17 and improved off that to record an impressive 4 1⁄2 f heat win despite doing plenty wrong. He was up on the speed before running wide on the point of the turn and took 0 to balance before sprinting past the leaders for a strong win in a fast closing sectional. Has been well educated as he followed up with a third trial at Warwick Farm last Monday where he wasn't asked for anything serious in the heavy ground. Has the ability.
THE KOSCIUSZKO (Gosford September 28)
: The open class trial of note featured Kosciuszko contenders VICTOREM and AFTER ALL THAT. The Port Macquarie-trained VICTOREM had won a trial at Taree on September 16 but this time was given a much easier time by his race jockey Ben Looker, settling well off the speed before picking up ground easily from the 2 1⁄2 f under a hold. He was only allowed some rein in the last 1 f and it was hard to miss him making ground quickly over the last 0 to be fourth across the line.
AFTER ALL THAT
was very similar as he was also given an easy time through the first half and was never asked for a serious effort at any stage, working home easily along the rail to finish 1.5 lengths behind Victorem.
Recent Trial Watch Winners: Segalas; Colombina; Roheryn; Rare Impulse, Catesby, Mahalangur; Tactical Advantage; All Stand; Diplomatico; Maid In Milan; Soir De Lune; Evalina; Spending To Win; Shumookh; Farranfore; Momentum Amethyst; Nakeeta Jane; Nacho Libre.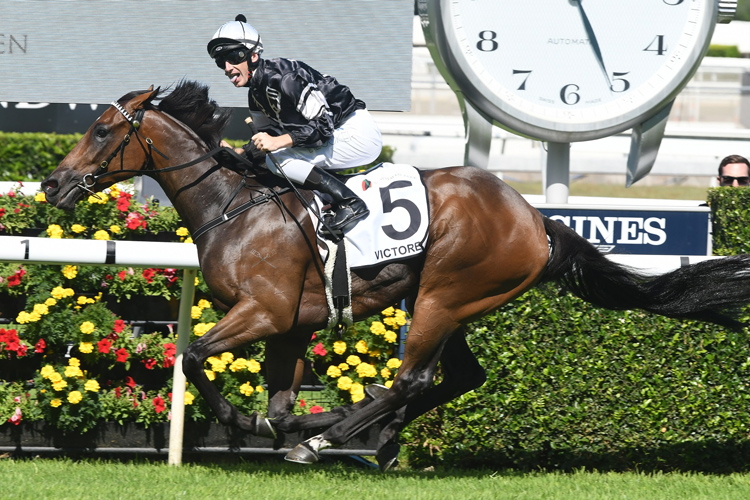 ELIGIBLE BLACKBOOK RUNNERS – October 13/14
RANDWICK
: After All That (R5); In Her Time (R7); Egg Tart (R8); Sikandarabad (R9)
CAULFIELD
: Duca Valentinois 9R2); Graceful Storm (R3); El Dorado Dreaming (R6); Shillelagh (R7); Tosen Basil (R8); D'Argento (R8); Good 'N' Fast (R9); The August (R9); Big Duke (R10)
HAMILTON
: Tezlah (R5)
CRANBOURNE SUNDAY
: Sheezdashing (R8)
BLACKBOOKERS - Horses to follow at next three starts. Selected October 6
RANIER: Good thing beaten.
VERRY ELLEEGANT: Great start to her Oaks build-up.
YOUNGSTAR: Winx form is as good as you get.
SAVATIANO: Would have made it interesting with a clear shot.
SIR JOHN LAVERY: Watch out for him over more ground.
WARRANTY: Gave up too much start in tough conditions.
ETYMOLOGY: Certain to benefit from sound first-up effort.
RECENT BLACKBOOK WINNERS: Ringerdinding; Sesar; Tamasa; Diplomatico; Homesman; Patrick Erin; Oohood; God Of Thunder; Miss Admiration; The Autumn Run; Noire; Mikey Blue Eyes; Akkadian; Night's Watch; Best Of Days; Isaurian; Haripour; All Too Soon.
CURRENT BLACKBOOK HORSES
: After All That; Amercement; Araaja; Axella; Bedford; Belfast; Belgravia; Berdibek; Big Duke; Bons Away; Care To Think; Chapter And Verse; Charlayne; Consommateur; Crack Me Cruze; D'Argento; Divine Unicorn; Duca Valentinois; Ducimus; Dyslexic; Egg Tart; El Dorado Dreaming; Emperor's Way; Etymology; Firsthand; Futooh; Frolic; Furore; Generalissimo; Good N Fast; Graceful Storm; Han Xin; Happy Hannah; Heliosphere; Highway SixtySix; Hopes Eternal; I Am Coldplay; In Her Time: King Lear: Kings Of Leon; Kinshachi; Lamborghini; Lanciato; Life Less Ordinary; Mactier; Marmaris; Miss Norway; Mr Monaco; Nahuel; Nakeeta Jane; Newsfan; Our Venice Beach; Performer; Platinum Angel; Pretty In Pink; Quilista; Ranier; Ravi; Red Stina; Renewal; Rich Charm; Royal Celebration; Ruban Bleu; Sangita; Savacool; Savatiano; See Me Exceed; Serenely Discreet; Sheezdashing; Shillelagh; Sikandarabad; Sir John Lavery; Sister Sledge; Slightly Sweet; So Splendid; Spanish Whisper; Stratosphere; Street Tough; Sweet Victory; Tezlah; The August; Torpenhow; Tosen Basil; Trubia; Verry Elleegant; Warranty; Wyndspelle; Yogi; Youngstar; Zousain