Triple Group One winner Happy Clapper was the biggest casualty from racing at Flemington on Saturday when the track came under fire for being too firm.
Happy Clapper will miss the remainder of the spring, having to serve a three-month ban after he was found to have bled from both nostrils in the G1 Makybe Diva Stakes.
However the Pat Webster-trained gelding was also one of the numerous horses reported to be lame, put down to the unexpected firmness of the track, after he finished fifth behind Grunt in the G1 Makybe Diva Stakes.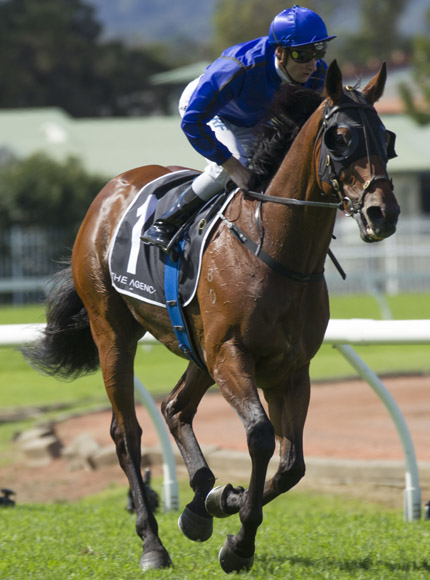 The stewards reports said it all about how numerous performances were affected by the firmness of the track with a number of favoured runners reported to be suffering various degrees of lameness after their events.
They included the unplaced favourites Theanswermyfriend, Rich Charm, Native Soldier and Merriest and the well fancied runners Hey Doc, Happy Clapper, EF Troop and Mr Garcia.
The often outspoken jockey/trainer Michelle Payne copped a $300 fine from stewards for misconduct after she posted twitter comments about the track conditions.
"Likely to scratch Sweet Rockette if the track looks too firm. And cop another fine for looking after my horse and owners - absolute bullshit!" Payne tweeted, an outburst that came to the attention of the stewards and resulted in her fine.
The Melbourne Cup-winning jockey rode her own horse Sweet Rockette to finish fourth in the Cap D'Antibes Stakes but only after she apologized to the stewards and decided not to scratch the filly after her tweet attack.
While there were showers around Melbourne on Saturday the Flemington track manager Liam O'Keeffe was left in a dilemma as the track did not receive the forecast rain leading up to the meeting.
Because of the forecast he did not irrigate the track on Friday. As a result the track was a firming Good 3, a rating he admitted could have been avoided if there was a policy that required him to water the track regardless of weather forecasts.
Payne agreed.
"If he had put five millimetres on this track would have been absolutely ideal for every horse and we wouldn't have a problem," Payne said she after she was fined by the stewards.
Payne has a history of twitter abuse and was fined $500 in July after a similar social media criticism of the racing surface at Sandown.
Leading owner Nick Williams also took to twitter to defend Liam O'Keefe over Saturday's track conditions.
"The weather made the situation for the track manager impossible. I think it is extremely unfair to criticise the Flemington team under these exceptional circumstances." Williams tweeted.
Others commented on the watering policy, pointing out that Flemington is the best draining track of Melbourne's four racecourses.