Young Dunedin-based apprentice Corey Campbell emerged as one of the stars of the riding ranks during the Christchurch Winter Carnival at Riccarton.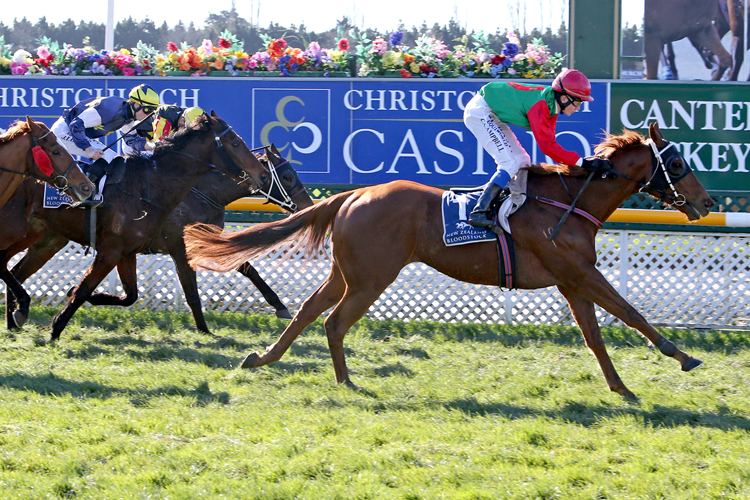 He completed his second winning double for the week on Saturday.
Campbell, who has just started his second full season of riding, guided home the Sean Cameron trained Amun Ra in race three before producing a copybook effort in the next event to land The Man a comfortable winner for his employers, Brian and Shane Anderton.
Ironically it was the teenager who denied Amun Ra his own winning double for the week, with the well-travelled Ustinov gelding having to settle for second behind the Campbell ridden What's Up Alf on the first day of the three-day carnival.
Cameron wasn't about to hold that result against Campbell who he was full of praise for after the race.
"It was a 110 per cent ride by the boy, a great ride," he said
"He (Amun hasn't got good form on this track as they've either been hard or very heavy. He just loves the slow tracks and he just pings off them."
Campbell made good use of his three-kilogram claim to settle his mount handy to the speed before issuing a challenge at the top of the straight. Urged to the lead with 1 1⁄2 f to run, Campbell kept Amun Ra up to the mark as he guided the seven-year-old to his seventh career victory.
"He's been going good races, so I thought if we could get a bit of cover and save him for one run then he would be hard to beat," Campbell said.
"It's been an outstanding week and I'm very grateful to get the opportunity to get on some nice horses."
When questioned about his chances on The Man, Campbell was bullish about his prospects and so it proved as the well-backed favourite raced away in the closing stages of his 1 1⁄4 m contest to score by five lengths in an impressive display.
"It was a good, positive ride by Corey as he got him in a nice spot and got him out at just the right time," co-trainer Shane Anderton said.
"He (The Man) seems to be getting better as he gets older and he is a typical Gallant Guru as a bit of age seems to do them good, as they get stronger with time.
"We'll take him home now for a bit of a break and then look at a few races like the Riverton Cup."
The victory put the icing on the cake for the Anderton team after they produced popular grey gelding Jackfrost to win the Grand National Hurdles (4200m) on Wednesday.