The old-timer Amanood Lad took a step toward achieving the dream result when scoring a fortuitous win in the NZI Koral Steeplechase (4250m) at Riccarton on Saturday.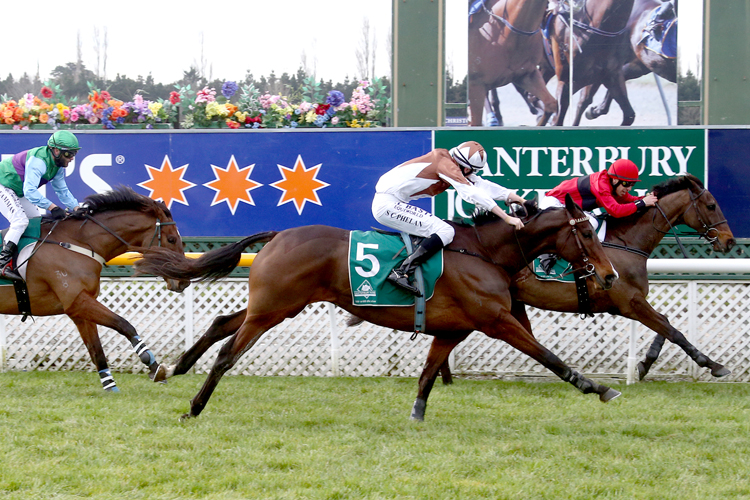 It's a day Paul Nelson will never forget as the win by the 14-year-old credited him with his 200th training success.
"He's won the Great Northern Steeples and the Wellington Steeples and it would be nice if he could win all three big ones," the Hastings trainer said, referring to the Racecourse Hotel & Motor Lodge Grand National Steeplechase (5600m) at Riccarton next weekend.
Amanood Lad was right in contention early in the run home, but coming to the last fence Notabadrooster had swept to the front and looked likely to score while Chocolate Fish was unleashing a strong finish.
Just as Notabadrooster's supporters were ready to celebrate, he came to grief on landing over the last obstacle and Chocolate Fish was checked when having to leap the fallen horse.
Meantime, Amanood Lad rallied again on the inside and took the lead for rider Aaron Kuru and stuck on strongly to win by a half neck from Chocolate Fish, who did well to recover and finish strongly ahead of The Big Opal and Kings Deep.
"It's bad luck for Chris (Notabadrooster's trainer Chris Faulkner), but we know about not jumping the last," said Nelson.
"You've got to marvel at this old horse. We're very lucky to get him to train. Thanks to Ben (Foote, former trainer) and the owners for letting us be part of
"The aim is to take the big three and it would be great if he could do it."
Amanood Lad became the oldest horse to win the Koral Steeplechase and in winning he gave Nelson his second triumph in the race.
Nelson's other Koral Steeplechase winner was No Hero, who completed the Koral-Grand National Steeplechase double in 2005.
Nelson has also won the Grand National Steeplechase with Just A Swagger in 2008, but no victory would be sweeter than Amanood Lad winning again next Saturday.-