Nigel Tiley isn't lacking firepower for the winter, as evidenced by a standout day at Avondale where he trained the last three winners on the eight race card.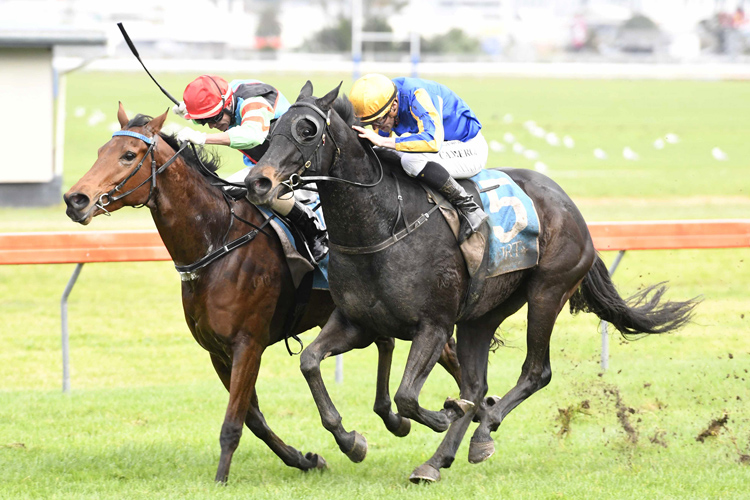 The country's leading jockey Samantha Collett kicked home Call Me Bob in Monday's West Brook Wines 1360 and Lupelani in the Westbrook.co.nz 1200, while Matthew Cameron was victorious aboard Switch In Time in the Avondale Sunday Markets 1360.
Tiley'sresults were particularly pleasing for the stable, who also enjoyed a Group Two placing with stable representative Meagablastin the P. J. O'Shea Stakes (2200m) at the Sunshine Coast on Saturday.
"It was great and one of the main reasons for that is that I have been in Brisbane on and off for the last month (with Megablast), so the staff at home can take all the credit for that," Tiley said.
The former champion jockey said he tries to vary his horses work heading into their winter campaigns and takes advantage of the beach to keep his charges fresh and happy.
"I think, as with anything, if you put in a good sound base into them and keep them happy, that is the main thing.
"We try and vary their work a little bit, we do use the beach and use Catherine Cleghorn out at the beach.
"Two out of those three would have gone out to her for a bit of pre-training, but we don't do anything that different, I just make sure we put plenty of mileage into them."
Tiley is happy with the way each of his runners have pulled up after their victories and is eyeing more success over the coming months.
"I think Switch In Time is a very progressive horse once he gets over a bit of ground," Tiley said."I think he is capable of going through the grades over a bit of a distance.
"Lupelani is well placed in that sort of handicap on those sort of tracks and Call Me Bob only goes if he wants so I'll keep him going while he is going well.
"I haven't made any firm plans withLupelani and Switch In Time. Lupelani, I won't be in a hurry to start her again, she likes to race well fresh, so I'll just freshen her up and look for a mid-week option for her.
"Switch In Time has come through the race well from all reports from home, so I'll probably look at stepping him up to a mile next start and then stretch him out after that."