Former kiwi galloper (Our) Peaky Blinders capped a tremendous day for New Zealand bred runners at Caulfield on Saturday when he took out the last race of the day.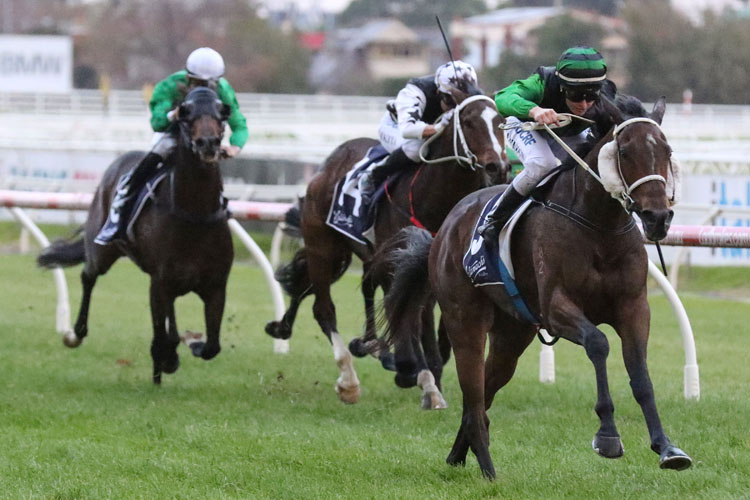 Peaky Blinders was the third winner on the nine-race programme to carry the (NZ) moniker after Riyadh and the impressive Lucky For All had saluted the judge earlier in the day.
Successful in two of his six New Zealand starts for Matamata trainer Kylie Fawcett, who co-bred and owned the Sir Percy gelding, Peaky Blinders was sold to Australian interests after winning over 7 f on New Zealand Derby Day in March 2017.
Fawcett, along with former partner Eddie Wright, retained a small share in the impressive individual who is a younger sibling of well performed Singapore galloper Rusty Brown. While no longer in direct control of the horses' development Fawcett maintains a keen interest in his progress.
"It was a great thrill to watch him win on Saturday even if I only have a small interest in him now," she said.
"I've always thought he had the ability to win a good race and the way he won on the weekend underlines that potential."
Fawcett admits that while she has faith in the horse she wasn't always enamoured with his behaviour around the stable.
"I think a nice description would be that he is a quirky individual," she said.
"He kept you on your toes and had some pretty interesting habits at times but when they have the sort of ability he possesses you tend to make allowances along the way."
Now in the care of ex-pat kiwi couple Trent Busuttin and Natalie Young, Fawcett believes time and further maturity has worked a treat with the horse.
"He had a small problem when he first went to Trent and Natalie and that may have been a blessing in disguise," she said.
"They gave him time to get over it which looks to have worked really well for him. From the communication I get from them he still has a few quirks, but the signs are good and now he has stepped up in distance he is going super.
"I thought he would make a good middle-distance horse and his last two wins have confirmed that. I'm not sure how many more runs he has in this campaign but on what he has done it looks good for next season when he should be at his peak."