A first-up trip south signals a welcome return to the racetrack for speedy Matamata galloper Southern Icon.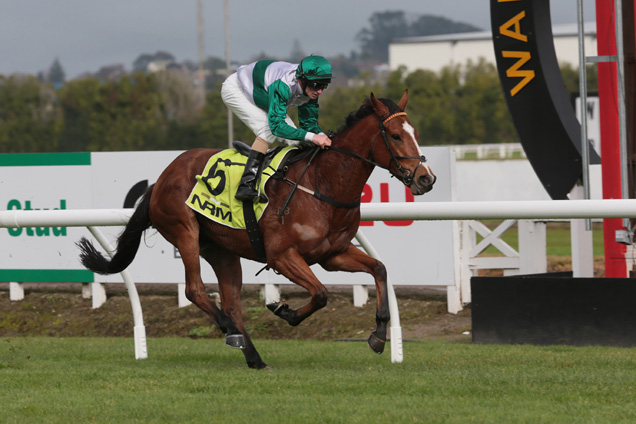 A winner of eight of his 30 starts for Matamata trainer Alan Tait, the six-year-old gelding will tackle the BNT Group Open 6 f at New Plymouth on Saturday in his first race since injury curtailed a summer campaign.
"He knocked his leg a while back. It could have been really serious, but we've just looked after him and given him time," said Tait's wife Galene, who shares ownership in the sprinter with Mike Collinson.
"He's always been a bit of a demon. We were starting to gallop him one morning and he jumped over the rail onto the inside track and then jumped over the next rail onto the two-year-old grass and knocked his fetlock quite badly.
"It's been a slow road back, but his X-rays are really good so it's all go for his return. He's had a hell of a lot of work though because he's still been able to swim."
Southern Icon had failed in his resuming run at Te Rapa in December before the injury, but he will resume inside the April-to-July window, which has been responsible for all of his previous wins.
The timing of those wins was more about circumstances than any seasonal aversion, according to Tait, who was expecting a bold return on Saturday with the addition of a tongue control bit to make the galloper more tractable for rider Mark Hills.
"It probably won't stop him racing in front, but it's certainly helped him in trackwork," Tait said of the gear change.
"He's a lot calmer and more settled, but Alan did say on Wednesday that he couldn't stop him in his gallop so he's pretty ready. If it's not too heavy - and he's a very adaptable horse and he's got an economical action - he'll be close to winning.
"If everything goes according to plan, we'll push on with him toward the Foxbridge."
Southern Icon was fourth in the Gr.3 Foxbridge Plate (1200m) at Te Rapa last August and eighth in 2016, having won his four lead-up races.
The Taits will soon double their racing team, with Fully Fledged three-year-old Time To Fly set to debut in the coming weeks after winning his trial at Cambridge on Tuesday.