With the barrier draw complete on Tuesday, punters believed they had all the information necessary to select the 2018 Golden Slipper winner that is before "Mother Nature" threw a curved ball providing rain and a wet track leading up to this afternoon.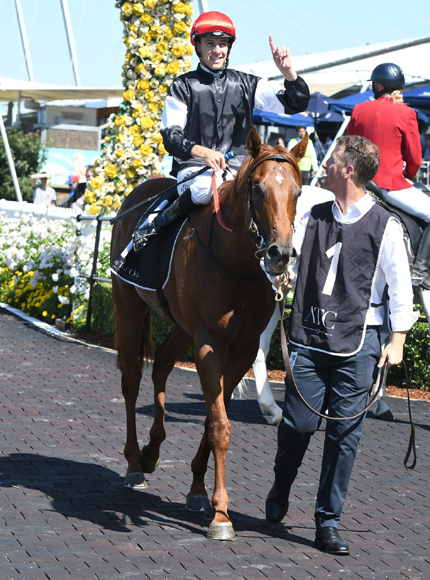 Just how rain affected the track will be by post time is a big unknown, however as history reveals it may result in better value about the winner rather than providing a long priced winner.
Since the turn of the century there have been five Slippers run on rain affected ground, She Will Reign (2017), Mossfun (2014), Overreach (2013), Phelan Ready (2009) and Sebring (2008) with Overreach being the shortest in betting starting $2.80 favourite and Phelan Ready the longest at $26.00. The other three started $8.00, $5.50 and $6.00 Fav respectively.
So there is no need to get too far away from the reliable form lines and the corresponding Timeform ratings hierarchy.
Sitting atop the current juvenile Timeform ratings table is the impressive unbeaten Blue Diamond Stakes winner Written By with a Timeform rating of 120 and the record of juveniles with a 120 or higher Timeform rating going into the Golden Slipper is very good, winning more than their share based on participation analysis.
Prepared by Grahame Begg for his father and the Begg family headed by legendary trainer Neville, Written By burst onto the main stage winning the Blue Diamond Prelude before taking the major prize two weeks later.
Written By not only will be attempting to join past Blue Diamond winners Sepoy (2011), Courtza (1989), Bounding Away (1986), Manikato (1978) and John's Hope (1972) to complete the Golden Slipper double but also joining Stratum, Rory's Jester and Inspired as the only winners of the Pago Pago Stakes to win the Golden Slipper.
History aside Written By possesses a foolproof his Blue Diamond win where he raced on the speed covering ground in a fast run race, yet still powering clear in the final 1 1⁄2 f stamped the colt as above average – his 120 Timeform rating being one of the better rated male winners of the race in recent times.
Last Saturday he tackled Rosehill for the first time in the Pago Pago Stakes and after leading throughout won narrowly but after a strong tussle with runner up Sandbar returning a Timeform rating of 118, slightly below his Blue Diamond figure.
As so often happens, several recent winners of the Golden Slipper have bounced off a figure below their peak rating at their start prior to the Slipper – She Will Reign, Capitalist, Mossfun and Sepoy being cases in point.
But whereas they all were beaten prior to the Slipper, Written By remains unbeaten and significantly makes his own luck in the run.
Perhaps more importantly today will be his ability to handle a wet track having already sailed to victory in heavy ground on debut.
Written By along with another unbeaten runner Aylmerton aim to become the 12th Slipper winner to keep their unbeaten record in tact – Vancouver being the last in 2015.
While Written By goes into the Slipper as head of the pack on Timeform ratings, one galloper with unexposed potential is the Chris Waller-trained Performer who was right on track for the Slipper until last start in the Todman Stakes. On that occasion he started a short priced favourite but tipped off rider Hugh Bowman at the 1 f when ducking out sharply.
Opinions are divided on whether he was going to win but on balance I believe he probably would have prevailed as he generally does his best work late in the race – a point his trainer Chris Waller concurs with.
That was only Performer's third race start having won his previous two outings including the Breeder's Plate last year and the Canonbury Stakes at his first run back this preparation – replicating a Slipper programme used successfully by Vancouver who won the Todman Stakes before winning the Slipper.
In essence there is some "guesswork" in arriving at just what level Performer might have reached in the Todman Stakes, however if we go back to the Canonbury Stakes where he defeated Stratospere, he ran to a Timeform rating of 113p against his 115p from the Breeders Plate so there was more to come in the Todman and if he had won the race, his Timeform rating would have revealed this.
Using sectional split analysis and mathematical mark-up formulae, Performer has profiled as being capable of running to a Timeform rating of 120 which is sufficient to bring him right into winning calculations.
Performer has trialled in blinkers against a moderate trial field but looked good and in recent years the Breeders Plate form line has stood up well for the Slipper.
A wide barrier may not be such a bad draw under the prevailing conditions and Performer also should have little trouble getting through the wet ground having already won on soft ground.
He has always raced as if 7 f or further would be ideal so the emergence of a wet racing surface should bring the speed back to him thereby making his task a little easier.
Unbeaten filly Sunlight will most likely start favourite – a positions she has earned with strong wins in the Magic Millions, Silver Slipper and Magic Night Stakes.
While no filly winner of the Magic Millions has ever won the Golden Slipper, the same cannot be said of the Silver Slipper and Magic Night Stakes.
Since being moved to the Autumn in 1997, the Silver Slipper has provided two Golden Slipper winners one of which was the filly Mossfun in 2014 however the Magic Night has a superior record with five winners taking the Slipper double, the last Bint Marscay in 1993.
Sunlight resumed off a 42 day break to win the Silver Slipper in quick time defeating Estijaab narrowly and running to a new Timeform rating peak of 116+ before coming off that figure with a much easier win last Saturday in the Magic Night where she ran to 113.
Like Written Sunlight has a fool proof running style being able to take up a handy position and hold off challengers.
Unproven in the wet is the only query but if she runs to her peak rating, Sunlight will be hard to hold out.
Lightly raced Estijaab has won two of her three starts in this her first preparation. After easily accounting for Saturday field in mid-January, she then stepped up sharply in class to the Silver Slipper only going down to Sunlight in the last few strides running to a Timeform peak of 115.
Then two weeks back she led throughout in the Reisling Stakes at Randwick to score well but running to a much lower 109 Timeform rating.
By Snitzel she should have no issues with the ground, however she will need to produce her Silver Slipper rating to figure in the finish.
Other fringe chances in a wide open Golden Slipper are Santos, Aylmerton and Sandbar.