Well known owner/breeder John Bromley had what he could only describe as a dream day on Saturday.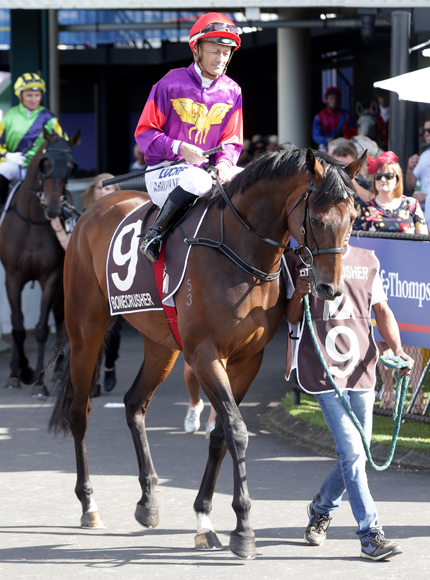 While he couldn't celebrate a victory at Ellerslie, Bromley still enjoyed a massive thrill with his two runners in Darscape Princess and Alinko Prince who were both competing at Group One level.
Lightly raced Darci Brahma mare Darscape Princess put up a superb performance in her elite level debut as she stormed home to finish a gallant second in the 1 Bonecrusher New Zealand Stakes (2000m). Barely forty minutes later Bromley was on the edge of his seat again as rugged six-year-old Alinko Prince closed gamely in the concluding stages to finish close-up in fourth in the day's signature event, the Gr.1 Barfoot & Thompson Auckland Cup (3200m).
"I can't really call it anything else but a dream day," said Bromley.
"We might not have got a win with either runner but they both ran out of their skins and to do it in Group One events is simply remarkable.
"To have not one but two runners in the best races on offer is a huge thrill and to see them run so well gave me immense pleasure."
Just seven days ago Bromley had been thinking he was heading to Ellerslie to support just his Auckland Cup runner but a phone call from trainer Fraser Auret quickly doubled his pleasure.
"The phone rang on Monday and it was Fraser, so I guessed he was ringing to talk about Alinko Prince," he said.
"I answered and the first thing he said was he had an important question to ask He said he would like to run Darscape Princess in the Bonecrusher Stakes and was I okay with
"I trust Fraser implicitly, so I just said did he think she was up to it and his answer was an emphatic yes. That sealed it but then we had to go about finding a rider.
"Johnathan Parkes is her regular rider but he was committed to Start Wondering so we cast around until someone mentioned Damian Browne was coming over to ride a horse for Tony Pike.
"I asked a few people, including Noel Harris, and the feedback I got was very positive, so we made the booking.
"Damian was fantastic and rode her a treat soit worked out just beautifully."
Bromley admitted his hopes had been dashed a little when the mare drew the outside barrier for the race but they were quickly rekindled once the contest got underway.
"Before the race I wasn't too confident but when they jumped and Damian got her into such a good position I started to lift my sights a little," he said.
"Then when she started to run on so strongly I got very excited. I can only describe the last three hundred metres in fishing terms as she was just slowly reeling in the leader but in the end she couldn't quite get him to the boat."
The significance of the result isn't lost on Bromley as he looks to the future broodmare career for Darscape Princess.
"Her win in the stakes race at Tauherenikau really set things up for her when she does go to the broodmare paddock but this has just lifted that to a much higher level," he said.
"Her dam, Cape Princess, is a rising seventeen-year-old and like manyof my broodmare band only has a few years left in her breeding career.
"To revitalise things I need good young mares like Darscape Princess coming through with that valuable black-type against their names so when the time comes their broodmare value is significantly enhanced.
'What we need now is a win at Group One level which would just put the icing on the cake."
Darscape Princess will have her next chance to achieve Bromley's wishes when she steps out in the Gr.1 Fiber Fresh NZ Breeders Stakes (1600m) at Te Aroha on 7 April.
"All going well we will see Darscape Princess at Te Aroha for the Group One there next month," said Bromley.
"We had hoped her older sister, Sensible Princess, might be ready for the race as well but that is starting to look unlikely. She had been spelling since winning at Pukekohe in November but has come back into work a little behind the eight ball after a small hiccup.
"I think it would have been quite an achievement to have sisters running in a Group One event together."
Bromley will now turn his attention to the upcoming Australian Easter Yearling Sale in Sydney where he will offer a Choisir colt from Shinko Princess (Lot 355) and a Redoute's Choice filly out of A Real Princess (Lot1) through the Lime Country Thoroughbreds draft.