Central Districts visitor Sensible Princess sprang an upset when she downed a quality line-up of fillies and mares in the Gr. 2 NRM Auckland Thoroughbred Breeders Stakes (1400m) at Pukekohe.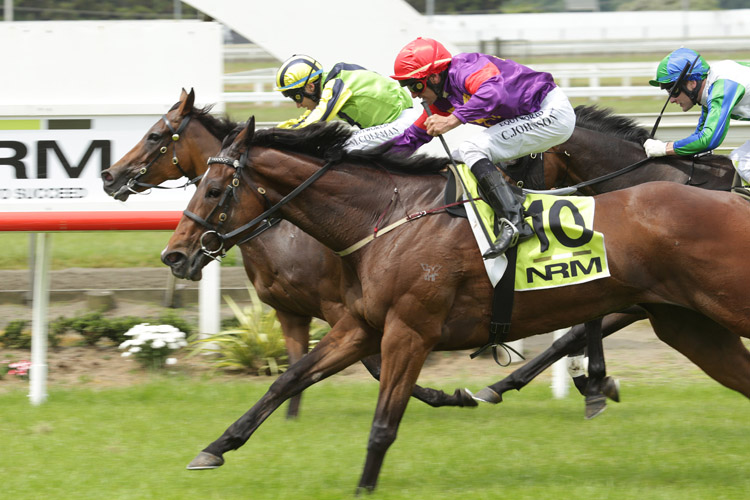 Despite boasting an impeccable formline of four wins from her last five starts, the daughter of Street Sense and capable race-mare Cape Princess was making her first attempt at the elite level, a challenge that she took comfortably in her stride.
Handled perfectly by leading rider Chris Johnson, Sensible Princess tracked nicely into the race to issue her challenge early in the home straight. Leading fancy Francaletta had assumed control at this point and looked set for victory, however, in his usual imperturbable fashion, Johnson urged his mount for a supreme effort which saw her drive to the lead as the pair hit the finish line.
"She travelled nicely in the run and about halfway I came out three wide," said Johnson.
"I didn't know if she had quite got but she obviously got her nose in front at the right time."
Trainer Fraser Auret was quick to pay tribute to Allpress who had ridden the mare in all bar one of her runs in her current campaign before suffering a nasty injury back in October.
"I owe a massive plug to Lisa Allpress as she has really developed this mare for me," he said.
"It's easy for me to sit here and take all the credit but a lot of work goes in behind the scenes, I've got a great staff around me and everyone plays their part."
Auret admitted he wasn't sure if Sensible Princess had even got the victory until he heard the official judges call.
"I didn't have any idea to be honest," he said.
"It's her first start this way around and she had better bearings than me.She had been working well and I felt last start she just may have sat a little handy as she is better when ridden off the pace.
"As a young horse she used to jar up on the firm tracks, but she's always had the class.
"We're not going to get too carried away with things for her but there is a nice weight-for-age mile back at Trentham in two weeks that the stable has won the last two years, so that's where she might be headed."
Auret was referring to the 1 Rydges Captain Cook Stakes (1600m) at Trentham on 9 December, a race he won with Aide Memoire in 2016 and Julinsky Prince in 2015.
The victory was also a further boost for owner John Bromley who sold a half-brother by Snitzel from Cape Princess to Hong Kong interests for $250,000 on the first day of the NZB Ready To Run Sale held earlier this week.