A Canberra-based builder-turned-demolition specialist is pinching himself wondering if owning a starter in Saturday's $10 million Everest at Randwick is only a surreal dream.
"'How did we get here? It's quite surreal, we feel very privileged and very grateful" says Paul Armstrong, one of 17 part-owners of Canberra-trained sprinter Fell Swoop.
The Fell Swoop story has its origins back in 2003 when Armstrong and his close friends Graham Singh and Mark Richards, mates since their schooldays at De La Salle College at Bankstown in Sydney, took shares in a Fasliyev yearling filly bought by trainer Lee Curtis at the Magic Millions Sale.
"She won her debut at Wyong, and we thought how easy is this?" Armstrong recalled.
"She was very quick but wasn't temperamentally sound so she was retired. We stayed in her ownership and bred Fell Swoop then Mark, Graham and I bought her outright.
"Then Matt Dale bought Fell Swoop at the Inglis Classic sale for $45,000 and we stayed in for 60 percent with all of us bringing in other people to race him, so he now has 17 owners in all."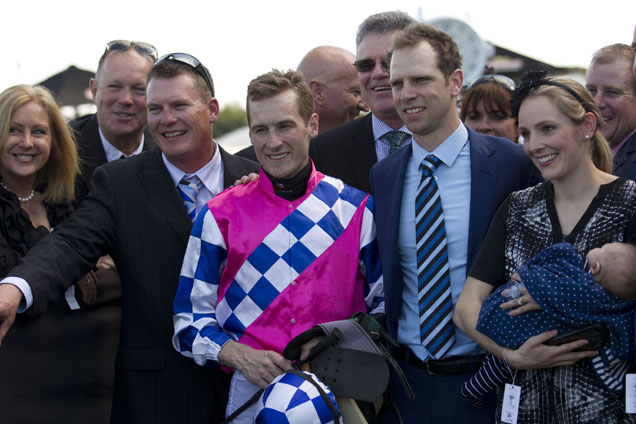 Fell Swoop, now a 6YO gelding by Not A Single Doubt, has already given his owners a wonderful ride, winning nine races along with five G1 placings for more than $1.6 million prizemoney.
Fell Swoop was one of the first horses claimed by a slot holder to run in The Everest but is one fot he outsiders in the betting.
"I know the bookies don't rate his chances highly but he deserves his place in the field. It's a horse race as The Everest ads say, expect the unexpected," Armstrong warned.
Armstrong says Matt Dale has done all he can to ensure Fell Swoop is at his peak for The Everest.
"Matt has had one aim for the last six months, to have him 100% for his Grand Final on Saturday," he said.
."His coat's come through, he's thrived on bush walking and beach work at Moruya and Tye Angland is very confident and happy with him. And his best runs are usually third up."
"Matt has been the most patient of trainers, he thinks about his horses all the time and his focus and attention to detail are second to none.
"It's a privilege to share this experience with him and his family."
Fell Swoop's dam Touched In Flight is playing her part too.
She produced a full brother to Fell Swoop at Willow Park on September 9 and visits Not A Single Doubt again this spring.