Livamol Classic raceday, the biggest meeting on New Zealand's spring racing calendar, was abandoned midway through proceedings when constant rain caused the Hastings track to become unsafe for further racing following the running of the Gr. 2 Scared Falls Hawke's Bay Guineas.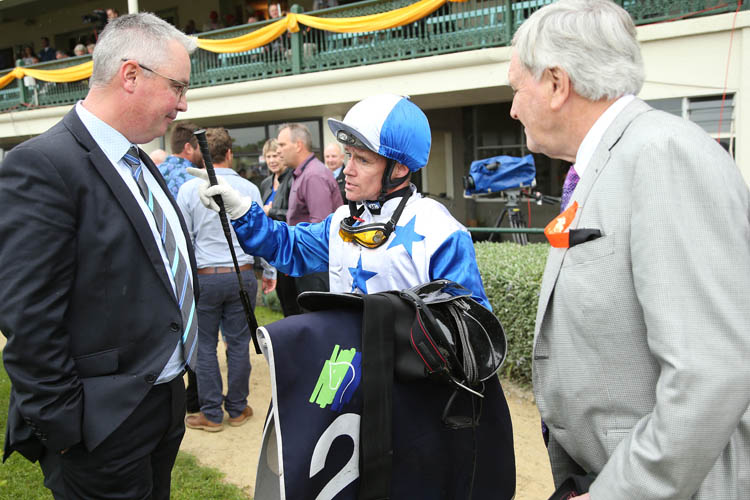 Rated a Good 3 surface at the start of the day, steady drizzle saw the Hastings track downgraded to a Dead 4 after the first race and then again to a Dead 6 prior to the Guineas which was carded as race 5 on the day's programme.
Concerns for the safety of riders and their mounts were immediately apparent after Guineas runner-up Bostonian was observed to slip badly when pulling up shortly after contesting a dramatic finish to the three-year-old feature.
Chief Stipendiary Steward John Oatham outlined the reasons for the abandonment.
"The film footage clearly showed that Mark Du Plessis' mount (Bostonian) slipped quite badly when pulling up so the riders had concern about that part of the track," he said.
"The track had been ground-hogged at the start of the day after some light rain this morning, however as the day progressed the horses cut into the surface and were down to a firmer part of the track again.
"We re-inspected it again with the riders but it was clear there was a not a lot of confidence that they could ride competitively into that bend.
"Accordingly, in the interests of safety for both horse and rider, we didn't believe we had any other option but to abandon the meeting.
"It is bitterly disappointing for everyone concerned but safety must come first."
Hawkes Bay Racing Incorporated and New Zealand Thoroughbred Racing will now hold discussions as to the immediate future for the remaining five races carded on the day including the 1 Livamol Classic and the 3 Red Badge Spring Sprint.