US champion mare Songbird has been retired from racing and will be offered for sale at the upcoming Fasig-Tipton November sale.
Owner Rick Porter said the decision had been taken considering a vet report of bone bruisingshe suffered over the winter.
"There is an ancient proverb that says all good things must come to an end. Fox Hill Farm announces that something that was very good for and very good for racing, has come to an end - the racing career of Songbird," Porter said.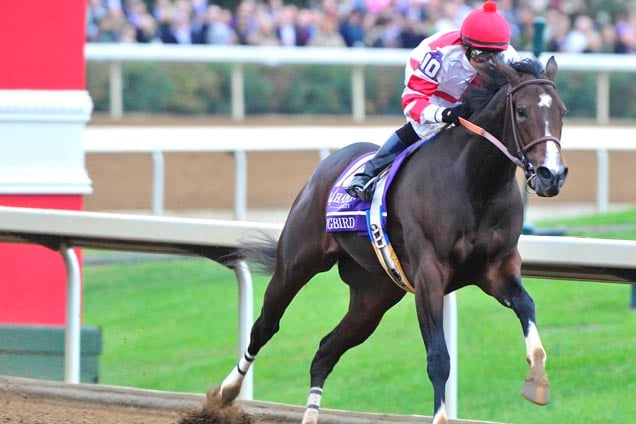 Songbird returned to racing this year but the three races without returning to her dazzling earlier form.
Ït wasn't what we expected from the bigger, stronger and smarter Songbird," Porter said.
"There were so many variables with her long layoff. We were never sure which of the variables may explain what wasn't quite Songbird.
"After her past race we thought something seemed off in her hind end, so we sent her to Rood & Riddle for an evaluation.
"Her lameness was readily apparent and ultrasounds proved both hind suspensories were enlarged."
Porter said a set of x-rays of the area of bone Songbird had issues with over the winter showed a distinct line on the bone.
"We followed up with a bone scan, and then an MRI. Unfortunately, the results weren't what we wanted to see," Porter said.
"We have a situation where it'd be dangerous for Songbird to continue training. For this reason we are retiring our lovely Songbird.
/s1/
"She was an absolute joy to race, and we expect that she'll be as wonderful a broodmare as she was a racehorse."
AS a 2YO Songbird won the GI Del Mar Debutante, GI Chandelier Stakes and GI Breeders' Cup Juvenile Fillies by a combined 22 lengths and earned her first Eclipse award as champion 2YO filly.
She was just as sensational at three, with dominant victories in the G2 Las Virgenes, G3 Santa Ysabel and GI Santa Anita Oaks.
She was the early favorite for the GI Kentucky Oaks, but was ruled out of the race after spiking a fever two weeks prior that caused her to miss training.
The bay returned better than ever, crushing her foes the G2 Summertime OaksGI CCA Oaks, GI Alabama Stakes, and GI Cotillion Stakes before she suffered her first defeat when pipped by four-time champion Beholder in the GI Breeders' Cup Distaff by a nose.
She ened the year with her second Eclipse award as the country's best 3-year-old filly.
Returning this year Songbird posted a victory in Belmont's GI Ogden Phipps in June and wired the field to win the GI Delaware Handicap in July before her final start at Saratoga last weekend in the GI Personal Ensign when she was run down late by Forever Unbridled to finish second by a neck.
Trained by Jerry Hollendorfer and ridden by Mike Smith for the entirety of her stellar career, Songbird won 13 of her 15 races including nine G1 victories and retires with earnings of $4,692,000.
Songbird will go to Taylor Made Farm until the Fasig-Tipton November sale to be held in Lexington on November 6.
Porter has enjoyed many good results at that auction, selling Round Pound to Darley for $5.75 million in 2007; Horse of the Year Havre de Grace to Mandy Pope's Whisper Hill Farm for a record $10 million in 2012; and G1 winner Joyful Victory to Aaron and Marie Jones for $2 million in 2013.