A stirring contest in the open steeplechase at Te Aroha was finally settled in favour of the Samantha Logan trained Ngatira Gold when the promising chaser held out a desperate bid by Thenamesbond in the closing stages of Sunday's event.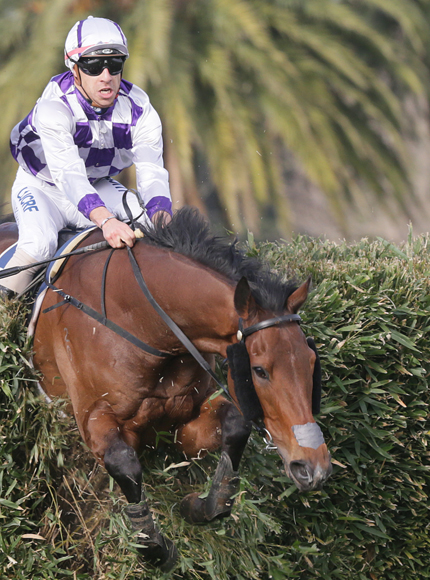 Having just his second start over the bigger fences after winning on debut at the venue last month, Ngatira Gold and rider Aaron Kuru sat behind a steady pace set by the leading trio of Mr Kanton, Thenamesbond and Nells Belle who took turns in front during the early stages of the race.
Things started to get serious with 6 f to run as Thenamesbond succeeded in putting enough pressure on his rivals to split the field By then Kuru had Ngatira Gold trucking along nicely in fourth before dashing to the lead with two fences to negotiate.
The anticipated victory suddenly came into doubt as Thenamesbond began to claw his way back into the fight along with Mr Kanton and Noah Jon who was running on resolutely. A bungle at the last fence nearly cost the Logan runner victory however he picked himself up to out-duel Thenamesbond in a torrid last 0 to score by a long head at the post.
Logan cut a relieved figure as she welcomed last year's Great Northern Hurdle placegetter back to scale after the race.
"That got a bit messy in the end but he will learn from that," she said.
"He's the type of horse who can sometimes throw it away but he loves steeplechasing and he just toughed it out today."
"I'll have a talk with the owners but if he comes through the race well then we will look at the Pakuranga Hunt Cup at Ellerslie next."
Kuru was thanking his lucky stars after nearly coming to grief at the last fence on the enigmatic performer.
"Full credit to Sam and the team as he's taken to this steeplechasing game really well and has a future there," he said.
"I was quite lucky that Thenamesbond mucked up the last as well but I knew I had the horse, it was just really whether he wanted it or not.
"He can go to Ellerslie now and be competitive just as long as he wants to do it."
Earlier in the day the Graham Falconer trained El Corby thrust himself into contention for the remaining Ellerslie hurdle features this season when he dug deep to score his third win from just 4 starts over the smaller fences in taking out the main hurdle race on the programme.