Mark Oulaghan is taking a neutral approach in assessing whether he has the firepower to win Saturday's Grand National Steeplechase (5600m) at Riccarton for a sixth time.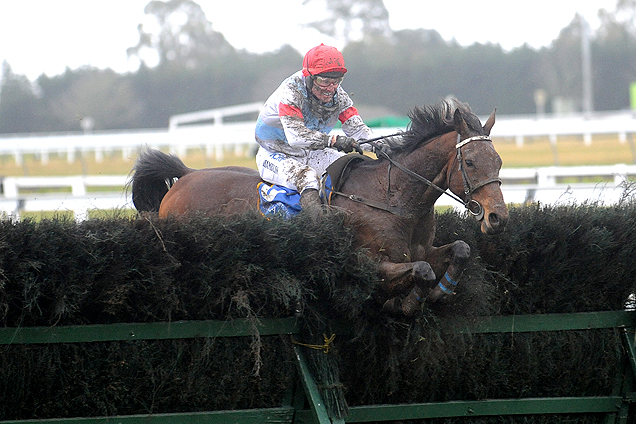 The Awapuni trainer made it five wins in the iconic jumping feature when Upper Cut won last year's race and the now 11-year-old Yamanin Vital gelding returns to defend his crown in the Racecourse Hotel & Motor Lodge-sponsored event on Saturday, along with less-heralded stablemate Paddy Owen.
"It would be good to make it six, but I just don't know," Oulaghan said.
"There's one or two handy horses in there and I think you have to judge it on the Koral [Steeples] from Saturday. The winner [The Big Opal], if he can do another round, is going to be hard to beat.
"He didn't last year, but he looks a stronger horse this year. And the two South Island horses [Kina Win and High Forty] both went good races the other day [for second and sixth]."
Upper Cut finished fourth in the Koral, beaten 20 lengths, but that was his first steeplechase since his Grand National win last year and Oulaghan was pleased with the effort.
"It was a tough run in the Koral. He kept plugging away and he wasn't far off them," Oulaghan said.
"He comes to it quickly which is a plus and that run would have brought him on a bit. Whether it's brought him on enough, I guess we'll find out on Saturday."
Upper Cut's win last year made Oulaghan the most successful trainer in the race's history, overtaking Ken Browne and Brian Anderton, with both producing the winner on four occasions.
Anderton could level the score if High Forty can win on Saturday.
Oulaghan's previous wins were with Deecee Seven in 1997 and 1998 and Counter Punch in 2010 and 2011.
His past success in the race puts him in the perfect position to assess his charges against his previous winners.
"Upper Cut is a Yamanin Vital and they seem to be able to pull something out when the going gets tough. Counter Punch and Deecee Seven both won this race twice and this horse isn't far off them."
Oulaghan rated maiden steeplechaser Paddy Owen as a runner's chance in the National.
"He's a bit of a dark horse. He's a maiden jumper and it's a bit unusual to go into a National with that type of form," he said.
"He's got a bit of ability, but he's hasn't done anything like what the other horses have. He's a good little galloper and he could lob into fourth or fifth with a bit of luck."