On a day dominated by northern raiders Kevin Myers and Adrian and Harry Bull it was Riccarton stalwarts Michael and Matthew Pitman who scored a victory for the home team when they produced underrated mare Queen Serene to upset over 1200 metres on the weekend.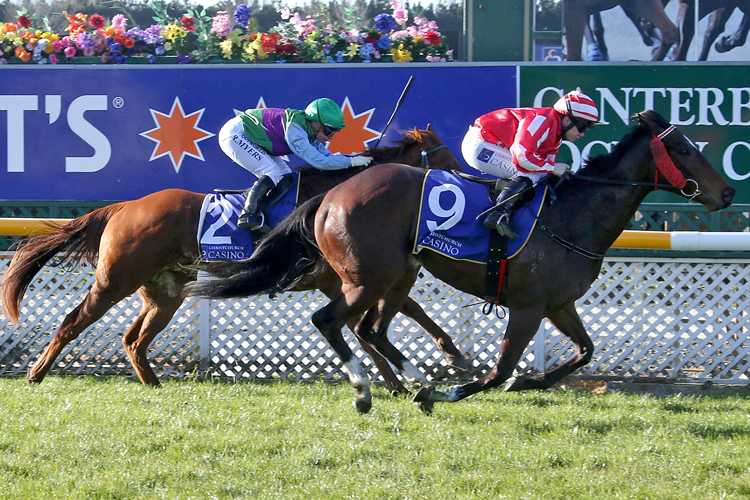 The five-year-old, who has enjoyed a productive campaign of late with a win and three placings from her last six starts, was sent out at generous odds in the Linwood Farm Stallions sponsored rating 65 contest after disappointing over 1 m at Ashburton early last month.
The brief let-up worked wonders for the Thorn Park mare as she produced a sustained run from well back in the 16-horse field to snatch victory from the Myers trained Tabard in the shadows of the post.
Michael Pitman was pleased with the effort by his charge as he admitted the stable hadn't held high expectations entering the first day of the three-day Grand National Carnival.
"She's a handy mare who tends to get a lot of bad luck in the running," he noted after the race.
"She is one who can handle some cut in the track and I thought it was a huge run as she just kept coming.
"We actually came here with absolutely no aspirations of winning races as we are not wet-track trainers.
"Cup Week in November is our go".
Pitman was also full of praise for the effort of rider Samantha Wynne who enjoys a good strike-rate when riding for the stable.
"I pulled off the stats the other day and showed them to her and told her how lucky she was to be riding for us," he said tongue-in-cheek.
"We both had a bit of a laugh about Sam is a great person who rides a lot of work for probably more than a lot people know, which is great as she knows the horses so well.
"I'd like to think we've got a big spring coming up for us and hopefully Sam will be a big part of that."
Pitman will now assess Queen Serene's recovery from her exertions with a view to a start over 2 f on the last day of the carnival next Saturday.
Queen Serene is the daughter of stakes winning mare Queenza who won the Listed Fairview Ford Stakes as a juvenile. She was a $10,000 purchase by Pitman from the Belvedere Farm draft at the 2014 Select Sale at Karaka.